If you've been reading my blog for any length of time, you'll know that I'm a fan of the one-dish meal. Fussing about with multiple pots and pans is just not for me, and nor is doing multiple sets of dishes afterward. The way I see it, if something needs a side dish to complete it, how good can it be?
Yet there are certain dishes (and yes, good ones) that do require a little something else, arent there? I can think of several: fishcakes, tarts, certain soups. In those cases, Ill often reach for one of my beloved salads, but sometimes I'm in the mood for something simpler. So occasionally, yes- I'll have a side dish. And very occasionally, if I'm feeling particularly virtuous (or if I plan to bake something particularly sinful later on), I'll have just a side.
As was the case last weekend, when I roasted up some broccoli for my lunch. This dish is adapted from an Amateur Gourmet recipe, but it's hardly something any one person can take credit for. Broccoli, lemon, cheese: that's pretty much it.
This time, I used Tenderstem broccoli, which I believe goes by the moniker "Broccolini" outside of the UK. The long, tender stalks and the asparagus-like flavour is perfect here, but any broccoli will do. I've used regular Calabrese, purple sprouting and even Romanescu before, all with slightly unique but equally delicious results. You can also change up the cheese here; feta is great in the summer, and parmesan or gorgonzola work well in the cooler months.
So, make this, and I'm sure you'll forgive me my little side-dish aside. It probably won't happen again for months, anyway.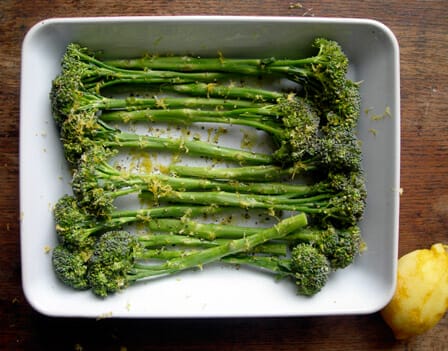 Roast Broccoli with Lemon and Cheese
serves 4 as a side
---
400g tenderstem (or other) broccoli
2 Tbs. olive oil
zest of one lemon
sea salt and black pepper, to taste
the juice of one lemon
50g feta cheese, crumbled (could also use: parmesan, gorgonzola, buffalo mozzarella)
---
Preheat the oven to 200C/400F. Lay the broccoli in a single layer in a shallow roasting tin, and drizzle with the olive oil. Sprinkle over the lemon zest, a pinch of sea salt and lots of freshly ground black pepper.
Roast broccoli for approximately 20 minutes, until turning brown and crisp in places (there is no need to toss with the Tenderstem, though you may want to with a chunkier variety). Remove from the oven and sprinkle with the lemon juice and cheese. Serve immediately.