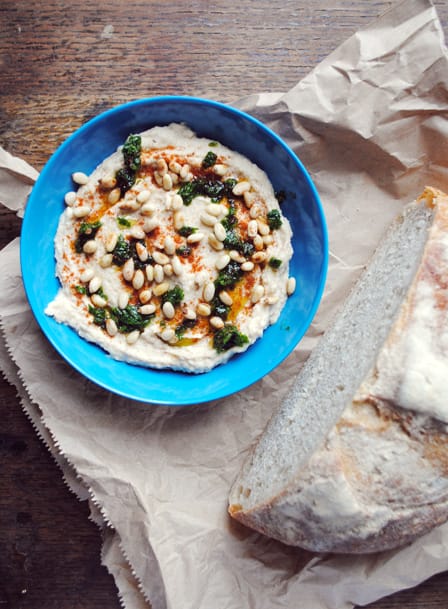 On Thursday, before returning to Canada after a lengthy holiday here in the UK, my parents took me out for lunch at my favourite London restaurant. Now I know you're all sick of us food bloggers harping on about Yotam Ottolenghi, his books, Guardian column and London delis, so I won't bore you. I will only say that if you live in or occasionally visit London and you haven't been to his Islington restaurant, you are missing out. Big time.
I always order the three-salad plate. It's the perfect amount of food; four would be too much (and leave me with no room for dessert), while two salads plus a main just doesn't tempt me. I'm sure the quiche, fish and meat dishes are lovely if you swing that way, but for me, the whole point of lunch at Ottolenghi is the salads. I think of them not so much as side dishes but as edible works of art.
My Mum agrees with me, and so on Thursday, while my Dad pronounced his lunch "very good" (he's a man of few words), she and I engaged in our usual pattern of snacking from each others' plates, discussing flavour balances, and figuring out how to recreate these works of art ourselves.
The salad I most wanted to recreate from our meal was a butter bean hummus, silky smooth in texture and rich in taste. I'm hardly a hummus connoisseur, but I preferred it, hands-down, to any chickpea version I've ever had. Served with some toasted pine nuts and a sprinkling of sumac, it was a perfect complement to whatever else what on my plate. (I honestly don't remember- that's how good it was.)
I made my own version for today's lunch, and though it ended up a little different, it's no worse off for it. I couldn't track down any tahini, but the almond butter I substituted lent such a lovely flavour that I wouldn't want it any other way. Topped with parsley, pine nuts and paprika, and eaten with a hunk of sourdough bread, this could quite possibly become a new favourite lunch. Without the trip to Islington.
Butterbean and Almond Hummus
makes approx 1 1/2 cups
---
For the hummus: 
1 x 4oog can butter beans, rinsed and drained
2 Tbs. almond butter
1 small garlic clove, minced
juice of half a lemon
1/4 cup olive oil
1/4 tsp. sea salt
For the toppings:
small handful pine nuts, lightly toasted
1 Tbs. very finely chopped parsley
1 Tbs. olive oil
pinch sea salt
paprika (regular or smoked), for sprinkling
---
 Combine all ingredients for the hummus in a glass measuring jug and purée using an immersion blender. Conversely, you could blitz them together in a food processor. Taste, and adjust the lemon juice, salt and/or olive oil to your liking. Note: If your hummus seems very dry, you could add a splash of water, too.
 Spread the hummus on a platter or in a shallow bowl, ready for the toppings. Sprinkle over the pine nuts first, then mix the parsley, olive oil and salt together in a small cup, to form a dressing. Drizzle or dollop this over the hummus, then finish by sprinkling some paprika on top. Serve with pita bread, sourdough or something else dippable.