I want to start this post with a great big Thank You to everyone who left a comment on this post last week. On Wednesday I flew home to Canada for my grandmother's funeral and spent the past week visiting with family and friends. Though I'm feeling okay and trying to present an upbeat front, dealing with death is never easy, and your words of support helped more than I can say.
Almost since I wrote that post, I've been thinking about how best to tackle this one. How to pay tribute to a woman like my Granny? A woman born during a time of horses and carriages, who lived through two world wars to adapt effortlessly to an era of fast cars, email and international travel. A woman who immigrated twice; first to England to escape Nazi persecution in her native Germany, and then to the wilds of rural Canada, to put down roots for her growing family. A woman who loved art, reading, conversation and above all, a good party. Also, and somewhat unfortunately, a woman whose culinary contributions included dishes like Stuffed Cucumbers and Tuna Noodle Casserole with Potato Chips.
No, Granny wasn't a great cook. This widely-acknowledged fact isn't intended to be rude; she'd be the first to admit that the preparation of meals held little interest for her. I knew that whatever recipe I shared in this post, it wasn't going to be one of hers. The only thing I ever looked forward to eating at her house was Lemon Meringue Pie or Jello, both of which came from a mix.
Still, meal times with Granny were special. When I was growing up, my family would travel five blocks east to my grandparents' house, where whatever was served inevitably played second fiddle to conversation, love and laughter. In later years my parents would often have her to dinner at our house, usually, on the first night, I was home from university on a break. While those meals surely tasted better than the earlier ones, I can't say I remember any of them, either. What I do recall of these evenings is Granny peppering me with questions about my classes, friends and hobbies- always interested in what I was up to, always happy to see me.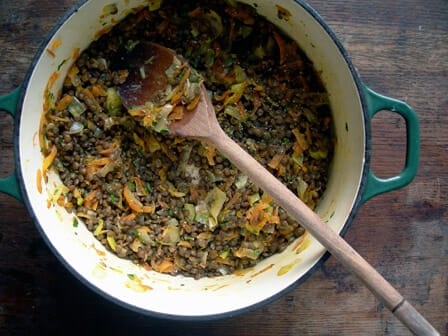 The dinner my Mum made on Wednesday evening was similar in spirit to those meals, at least. My sister and I had just stepped off a (delayed) transatlantic flight, and what we needed most was sustenance, with a side of catching up. This lentil gratin comes from a cookbook published by UK charity Christian Aid, one which my Mum has been pushing me to review on Kitchlit for months, and I (in my modern, agnostic snobbery) have been stubbornly resisting.
I may have to eat my words if this recipe is anything to go by; rich, hearty and comforting, this was just what I needed that evening. Nothing fancy, just a simple background meal to some much-needed family time. Because sometimes, it's not really the food that matters.
Lentil Gratin
adapted from The Christian Aid Book of Simple Feasts by Sarah Stancliffe
serves 4 (with a salad side)
---
150g Le Puy lentils
1 Tbs. butter
1 clove garlic, minced
1 small yellow onion (or 1/2 a large one), finely chopped
1 leek, chopped
1 medium carrot, coarsely grated
75ml single cream
100g grated Gruyere cheese
1 Tbs. finely chopped parsley
sea salt and black pepper
20g chopped walnuts
---
 Preheat the oven to 180°C/350°F. Lightly butter a medium-sized gratin dish and set aside.
 Bring a pot of water to the boil and add the lentils. Cook according to package instructions, about 35 minutes at a low boil.
 Meanwhile, melt the butter in a heavy-bottomed saucepan that has a lid. Add the garlic, onion, leek and carrot and stir to coat. Cover, turn the heat very low and allow the vegetables to sweat for 20-25 minutes, until soft and translucent but not browned. Set aside to cool slightly.
 When the lentils are cooked, drain and add to the vegetables. Stir in two tablespoons of cream, about half of the cheese and the parsley. Season to taste and spread the mixture into the prepared gratin dish.
 Mix the rest of the cream and cheese with the walnuts until you have a lumpy paste. Spread this over the top of the gratin and bake for 20 minutes, until golden brown on top.