I should probably explain, huh? This dish, unfortunately, goes by the moniker "Plaster Pasta" in my house. Charmingly bestowed by Andrew, it's from the early days of the recipe when I was still working out the kinks. As it cooled, the ricotta would firm up and the whole thing would stick together in a rather unappetizing way. Unappetizing for him, I should say. I didn't really mind- it still tasted good! If plaster pasta sounds less than appealing to you, though, not to worry. I fixed the recipe and it doesn't do that anymore. Unfortunately, the name has stuck.
If you can get past it, you should really try this. I love creamy pasta sauces, but try to stay away from them for obvious reasons. They're less than healthy, and, in the summer at least, who needs all that richness? This dish, though, is wonderfully creamy and light, so it's perfect for the warmer months. Almost all the creaminess comes from ricotta; I've added only a bit of single cream and olive oil to cut down on the plaster-like properties. You could even use low-fat ricotta if you really wanted to.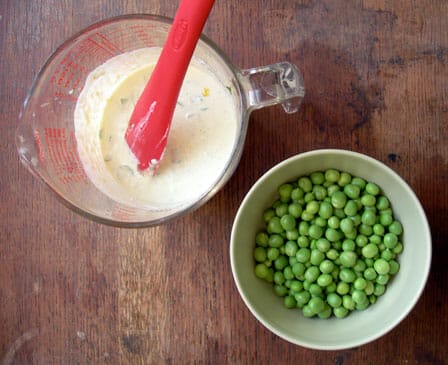 It's not just the sauce; the basil, lemon and peas share responsibility for the great summery-ness of this pasta. I used fresh peas from the farmer's market, but frozen would work, too. For the pasta, I find Conchiglie (better known as shells) work best; they hold onto the peas, making the whole thing easier to eat.
Speaking of eating, this should be served semi-immediately. If it sits around for too long, traces of plaster pasta might return. Hey, I'm not a miracle worker, and cooking concessions have to be made sometimes, right?
Pasta with Peas, Ricotta and Lemon
serves 2
---
200g conchiglie (shell) pasta, or other small, hollow shape
100g (approx. 1 cup) fresh podded peas (or frozen)
1/3 cup ricotta cheese
3 Tbs. single cream
1/4 cup parmesan
1 Tbs. olive oil
zest of one lemon
juice of 1/2 a lemon
2 Tbs. roughly chopped basil (or only small leaves)
sea salt and black pepper
---
 Put a large pot of water on to boil, and salt it generously when it does. Cook according to package instructions, and add the peas for the last 4 minutes of cooking time (Only 1 minute if peas are frozen). Drain, but reserve 1/2 cup of the cooking water.
 Meanwhile, combine the ricotta, cream, parmesan, olive oil, lemon zest and juice in a large bowl. Whisk together thoroughly, salt and pepper to taste, and add most of the chopped basil.
 Add the cooked pasta and peas to the bowl with the sauce and toss to coat. If it seems a little thick or sticky, thin with some of the reserved cooking water. Serve with the remaining basil as a garnish, and extra pepper and parmesan if you like.