Those of you who follow my Sunday shopping posts will know that I've been buying a lot of strawberries lately. I can never resist them at the market- all plump and red and juicy, mocking me with their deliciousness. Well ok, maybe they're not mocking me, exactly, but it does seem that they have some particular hold over me. And a little fruit personification never hurt anyone, right?
Right. I've been using these strawberries in a variety of ways: as jam in danishes, stewed with dumplings, in my morning smoothie. It occurred to me the other day, though, that I'm always pushing, stewing or otherwise deforming my lovely strawberries, and, you know, why? So I decided that the next batch from the market were not to be touched by heat, or potato masher, or blender. These berries would be pure, fresh and as nature intended them to be.
Of course, that idea lasted about ten minutes before I got bored. Aside from the fact that I actually like cooking, having a food blog has made me immediately wary of any too-simple recipe. You know the kind: mix a pint of chopped strawberries with the juice of half a lemon, a teaspoon of sugar and toss of the coating. Serve with cream. Delicious, yes (I actually grew up on this dessert), but blog-worthy? No. I've got readers to impress, people! (Not that many, but still.)
The solution presented itself while I was flipping through the Jamie's Italy book I borrowed from my local library last week (check Kitchlit tomorrow for a review). I saw a recipe for Torta di more (blackberry tart) and felt that this was it: the fruit left fresh and raw, but the tart base suitably fancy. I'm not sure if nature, in fact, did intend strawberries to be nestled into a creamy bed of liqueur-scented mascarpone atop a sweet butter pastry crust, but if it didn't, it should have.
Besides subbing strawberries for the blackberries, I made a few minor alterations to Jamie's recipe. I didn't have any of the grappa he calls for but felt that I could do better than that, anyway. Instead, I reached for a bottle of Southern Comfort, the fruity whiskey-like liqueur that we keep around in the summer. (I think a splash of Pimm'swould be good, too.) As for the tart case, I merely simplified it a bit, leaving out the lemon zest and vanilla, and reducing the sugar.
The original recipe was for an 11″ tart. As I only have a 9″ tin, I used the excess dough to line several muffin cups, making a bunch of cute mini-tarts, as well. The great thing about this recipe is that it's infinitely adaptable- make several smaller parts of a whole slew of individual ones, use different fruit, vary the liqueur in the filling- the possibilities are endless. I'm already thinking about how delicious a chocolate mascarpone filling would be…
Ok, ignore me. Clearly, I have issues. Just go make this, you won't be sorry you did!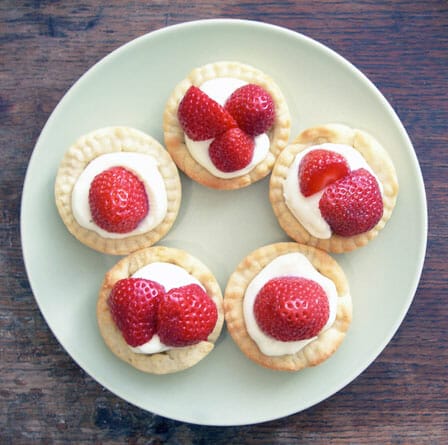 Strawberry Mascarpone Tart
adapted from this recipe by Jamie Oliver
makes one 11″ tart (or one 9″ tart plus 5 mini-tarts)
---
Sweet Tart Case:
270g plain flour
85g icing sugar
pinch salt
125g cold, unsalted butter, cut into 1cm cubes
1 egg
2 Tbs. cold milk
Tart Filling:
300g mascarpone
80ml single cream
2 Tbs. sugar
1/2 tsp. vanilla
1 Tbs. Southern Comfort, Pimm's, or other spice-and-fruit flavoured liqueur
300g fresh strawberries washed, trimmed and cut into large chunks
---
 To make the pastry, mix the flour, icing sugar and salt together in a large bowl. Using your fingers (or a food processor) work in the pieces of butter until the mixture resembles coarse breadcrumbs. Work quickly and don't over blend- you want some pieces of butter still visible.
 In a small bowl, whisk the egg and cold milk with a fork until combined. Pour over the flour mixture and, with a spoon or your hands, mix together until uniform. Don't overwork at this point- it may still be crumbly, but that's okay. Gather dough quickly into a ball, wrap in clingfilm and place in the fridge for half an hour.
 When you're ready to make your tart case, coat the tin(s) with a bit of butter and remove the dough from the fridge. Roll out to a thickness of about 1/4″, using a floured rolling pin on a lightly floured surface. Gently lift the dough and press into the tin, trimming the excess from the top. If you have a lot of excesses, you can roll it out again, cut into smaller rounds (by hand or with a 3 1/2″ pastry cutter), and use it to line some muffin cups, to make some smaller parts.
 Line your tart cases with parchment paper and fill them with baking beans or uncooked rice. Place into the freezer for about an hour. (I use the fridge as my freezer isn't big enough for a tart case!)
 About 20 minutes before you're ready to bake your tart case(s), preheat your oven to 180ºC/350ºF. Bake for 10 minutes with the parchment paper, and a further 5 without. Set aside to cool, first in the tin and then (carefully!) on a cooling rack.
 To make the filling, mix the mascarpone, cream, sugar, vanilla and liqueur together in a large bowl or jug. Test the consistency- it should be thick and creamy, but spreadable. If it seems too thick to spread nicely in the tart case, add some cold milk, bit by bit until you're happy with the texture.
 When the tart cases are completely cooled, transfer them to serving plates. There isn't much rhyme or reason to the filling of these: just pour in the mascarpone mixture, spread it around so it reaches the case edge, and scatter/arrange the strawberries on top, as artfully or rustically as you like. Keeps in the fridge until you're ready to eat it, but best served within a few hours and polished off within 24.