Brace yourselves, friends. As promised on Sunday, I've got a strange one for you today. I recently took a chance on an intriguing (some might say bizarre) new dish. A pizza that isn't a pizza, a summer dish that seems utterly unsuited to hot weather, this meal had me second-guessing all kinds of preconceived notions.
The recipe in question comes from Recipes from an Italian Summer, a new cookbook from the same people who gave us that bible of Italian cooking, The Silver Spoon. There's little I like more than the idea of summer in Italy, so of course, I was thrilled with this addition to my cookbook collection. Imagine my surprise when it wasn't the fresh slate or creamy semifreddo that first caught my eye, but this Pizza di palate. I was drawn to it immediately, as I tend to be two things that make me go "huh?".
Because this isn't your usual potato pizza, that delicious carb-fest in which thinly sliced potato gets put atop pizza dough with rosemary and olive oil and baked into crispy submission. No, the potato here is in the dough- or rather, better. See, the base of this "pizza" is something akin to mashed potato; you mash some potatoes, mix in some flour, butter and egg, spread it all in a roasting tin, top and bake.
You're probably thinking that this hardly sounds summary, and you might even be thinking that it hardly sounds good. Let me assure you that on baking, something wonderful happens to that potato: the edges become crisp and chewy, just strong enough to hold together a "slice" of this pizza. It's not a finger food – you'll have to use a fork here – but it is delicious.
As for being summery, well- that's all down to the toppings. I stayed true to the original recipe, and opted for a mixture of fresh tomatoes, anchovies, mozzarella and basil, and this classic combination did much to lighten and brighten the dish. In cooler weather, I can see caramelised onions, goat's cheese and sage working well.
So the next time you're flipping through a new cookbook (or magazine, or blog) and come across something that stops you in your tracks for its utter absurdity, try to keep an open mind. You might just be in for a delicious surprise.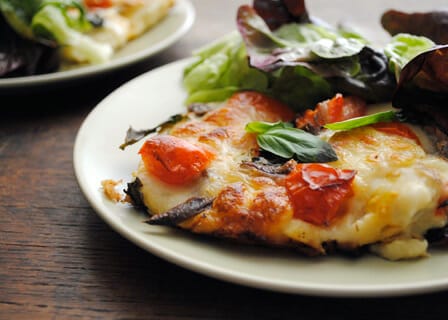 Potato Pizza
adapted from Recipes from an Italian Summer
serves 4
---
500g floury potatoes, peeled
100g plain flour
25g unsalted butter
1 egg
3 medium tomatoes, chopped
125g mozzarella cheese, torn into small pieces
4-5 anchovy fillets, rinsed and chopped
10-15 leaves basil, torn
1/4 tsp. dried oregano
1 Tbs. olive oil (plus extra for brushing)
---
 Preheat the oven to 220°C/425°F and brush a medium-sized roasting tin with olive oil. (The exact size doesn't really matter; a larger tray will give a flatter, crisper pizza, a smaller pan a deeper, creamier one.) Set aside.
 Bring a large pot of salted water to the boil, and cook the potatoes until tender. Allow cooling slightly before putting the potatoes through a ricer (or sieve) into a large bowl. Add the flour, butter and egg and mix until you have a uniform "batter". Spread this into the roasting tin.
 Cover the potato mixture with the tomatoes, mozzarella, anchovies and basil. Sprinkle with the oregano and drizzle with the olive oil before baking for 20 minutes, until crisp and golden at the edges. Serve immediately, slicing with a knife and serving the slices with a flipper/spatula.