In the wee hours of this morning, a simultaneously mundane and exciting event occurred where I love. Mundane to a Canuck like me, but exciting to millions of Londoners who rarely witness such an event. Yup, it snowed. It was just past midnight when Andrew arrived home from a work party; I was asleep, but he saw fit to wake me, knowing that I'd love the sight of huge, fluffy snowflakes being blown horizontally through the village streets by ferocious winds.
I was even more thrilled when I awoke this morning, to see that the snow was still there (it's normally gone within the hour around here). The day had dawned cold, crisp and bright to match the white blanket now covering the village. A perfect kind of day for buying a Christmas tree (check), baking cookies (check) and decorating the flat with a glass of wine in hand (I'm working on it).
Which brings me to the point of today's post: what to eat for lunch on a day like this? Luckily for us, I had some perfectly appropriate leftovers at hand, of a dish I scrounged together earlier in the week. Readers, I'm about to make a somewhat bold statement.
This might just be the Most Delicious Thing I've ever made from Crap I Found in my Fridge and Cupboards.
True story.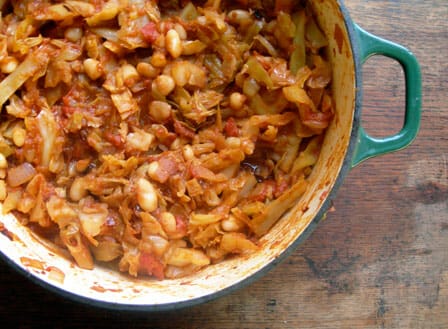 A winter spin on my standby Greens and Beans formula, this dish pairs cabbage with cannellini beans and three types of tomato- paste, sun-dried, and canned. I know it might do more for my kitchen cred to have "fresh" on that list, but how often do you have fresh tomatoes lying around in the winter, really? This dish can be made from the stuff that's likely hanging out in your kitchen right now.
More importantly, it tastes delicious: sweet from the tomato paste, salty from the sundried tomatoes and bright from the chopped ones. The cabbage becomes wonderfully tender and the beans add bulk. Served piping hot and covered with copious amounts of parmesan, this isn't so much food you want to eat as shovel into your mouth. But don't feel bad; on days like this, we all need a little home-cooked comfort.
Triple-Tomato Cabbage and Cannellini Beans
serves 4 as a main
---
8 sun-dried tomatoes (the dry kind, not packed in oil)
3 Tbs. olive oil
1/2 a yellow onion, finely chopped
2 garlic cloves, minced
1/2 tsp. chili flakes
1 Tbs. concentrated tomato paste
1 small green cabbage, cored and shredded
1 x 400g can chopped tomatoes
2 cups previously cooked cannellini beans (or 2 x 400g cans, rinsed and drained)
sea salt and black pepper
parmesan cheese, to serve
---
Roughly chop the sundried tomatoes and place in a small bowl. Pour over boiling water from the kettle until just covered, then cover with a plate and allow to soften.
Heat the olive oil in a large, heavy-bottomed saucepan over medium heat. When it's hot add the onions and garlic and cook until soft and translucent, about 5 minutes. Using a slotted spoon, remove the sundried tomatoes from their soaking bowl and add to the onions (reserve the tomato water). Also, add the chili flakes and tomato paste and cook for 2 more minutes.
Add the cabbage to the pot and stir to coat everything well. Pour in the reserved tomato water and cover the pot; this will help the cabbage wilt faster, so everything else can fit it! Allow to cook for 5-10 minutes, but check frequently to stir and make sure nothing is sticking.
Add the chopped tomatoes and cannellini beans to the pot and stir to combine. If the mixture seems too dry, add a bit of water from the kettle to keep it stewy. Cook for another 10 minutes or so, until the flavours have melded and the cabbage is very tender. Season to taste with salt and pepper and serve immediately, with parmesan cheese if you like.