"What's your favourite colour?" is one of those questions which, along with classics like "What do you want to be when you grow up?", adults don't get asked much. Which is a shame, because I'm pretty sure that most adults would have a more interesting answer than your average six-year-old. While once upon a time I would have said "pink" simply because that's what every little girl is expected to say, today my answer would be far more considered.
See, while I like "colour" in theory (and in the art, interior design and life), I don't really like it on me. My sister loves to tease me about my wardrobe full of "drab and blah" shades, and it's true; I love neutrals, and they make up a good portion of my wardrobe. My favourite colours to wear include olive green, muted gold, grey and of course, black.
But with food, I'm with the experts; brighter is better. Not just for health but beauty and enjoyment of a meal, too. I particularly love how the bright green of vegetables and herbs pairs with purple; think beets and their greens or basil and aubergine. So the other day when I was looking for an addition to my herby couscous salad recipe and saw a head of brilliant red cabbage in the crisper, I was sold.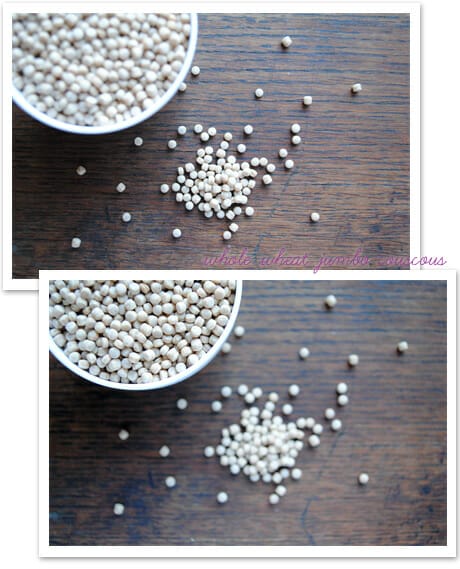 I found the jumbo, or Israeli, couscous for this recipe in my local supermarket. Six months ago I was combing London for the stuff, and now it's available easily, and in a whole wheat version, no less. I like the whole wheat almost better than the plain, particularly for salads. It has an extra-chewy quality which really works here.
Add to the couscous some chopped fennel, cabbage, parsley and mint, and dress the whole thing lightly with some oil and vinegar, and what do you have? A riotous explosion of green and purple which tastes as vibrant as it looks.
So, what's your favourite colour? What about to eat?
Purple & Green Couscous Salad
serves 4-6 as a side
---
1 cup whole wheat jumbo couscous
1 medium fennel bulb, chopped finely
1/2 small purple cabbage, chopped finely
1/2 cup finely chopped parsley
1/4 cup finely chopped mint
1/4 cup olive oil
juice of half a lemon, or more to taste
sea salt and black pepper
---
 Bring a large pot of water to the boil and cook the couscous just like pasta. Boil for 6-8 minutes until cooked but still chewy, then drain, rinse well and allow to drip dry in a sieve.
 When the couscous is no longer dripping wet, add to a large bowl and toss with all the other ingredients. Season to taste, adding more lemon juice, salt and pepper as needs are. This salad will keep well in the fridge for several days.