You know, its funny. For most of my life thus far, Ive professed to be a hater of salads. I know, its difficult to imagine hating something as innocuous and unassuming as a salad. It wasnt a passionate hatred; Ive always happily munched of lettuce and veg (no dressing, please) after dinner with the rest of my family. But as something to spend time making? As something to get excited about? As something to actually pay for in a restaurant? Please, I had better things to eat.
Which makes it all the more surprising that over the last few years, Ive become obsessed with salads. My Mum might say that this is evidence of me growing up, but I know better. What really sparked this change of heart was discovering that salads dont have to have lettuce. They can have vegetables. Or legumes, or cheese, or even pasta! Suddenly, a whole new world of dishes opens up when you realise that salad just means dish served cold or at room temperature.
This particular salad is an adaption of one in Falling Cloudberries by Tessa Kiros. I reviewed this book last summer and at the time gave it three stars, though I'm beginning to think it deserves more. Lately, I want to eat everything I see in this multi-cultural gem of a book. Tessas Greek-inspired Chickpea and Feta Salad takes chickpeas, feta cheese, red onion, green onion, fresh herbs, lemon juice and olive oil and somehow turns it into more than the sum of its parts.
It's not the simplest salad you'll come across. There's rather a lot of simmering, chopping, sautéeing and marinating to do, but it's worth it. This is by far the best chickpea salad I've ever had. Even if you're a salad hater, a chickpea hater or a feta hater, I think you should try this. I know I'll be eating it all summer (though I might munch on the odd bit of naked lettuce, too).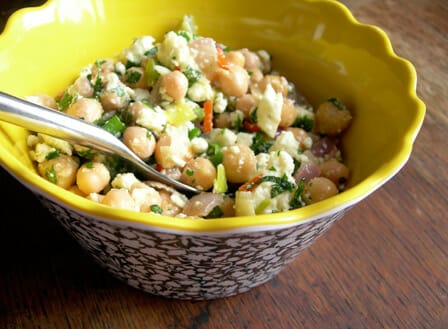 Chickpea and Feta Salad
adapted from Falling Cloudberries by Tessa Kiros
serves 6 as a side; 3 as a main
1/3 cup + 2 Tbs. olive oil
1 leek, sliced lengthwise and chopped (white and light green parts only)
1 small red onion, finely chopped
1-2 red chillies, de-seeded and finely chopped
3 garlic cloves, finely chopped
approx. 500g chickpeas, either from a can or cooked from dried
200g feta, crumbled
4 green onions, finely chopped (dark and light green parts only)
1/3 cup finely chopped coriander
2 Tbs. finely chopped mint
zest and juice of 1 lemon
sea salt and black pepper, to taste
1. Heat 2 Tbs. of the olive oil in a nonstick pan over medium-low heat. Gently cook the leek and red onion for 8-10 minutes, until very soft and beginning to turn golden. Add the chilli and garlic and cook for another minute or two until very fragrant- be careful not to brown the garlic. Remove from heat and set aside to cool.
2. Place the chickpeas, feta, green onions, coriander, mint, lemon zest, lemon juice and remaining olive oil in a large bowl. When it's cool enough not to melt the feta, add the mixture from the frying pan and gently stir everything to combine. Season with salt and pepper to taste. Leave salad for at least one hour (or as many as 24) in the fridge; the flavours will meld and improve.