This blog is such an enabler. Here I am, in the middle of my early-summer "yikes-it's-skirt-and-tank-top-weather-when-did-that-happen?" health kick, and finally sticking to a running schedule for the first time in months, and what do I do? Bake, of course. Why? Because my blog needs sweets.
Over the past 14 months, Kitchenist has taken on a life of its own, so much so that it's started demanding baked goods, and fancy ones at that. Most people bake for someone – kids, houseguests, co-workers, a partner – who can appreciate or at least consume, the fruits of their labour. Not me, I bake for my blog. Which, as it turns out, doesn't have much of an appetite.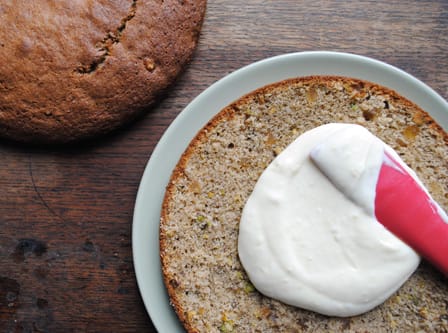 This Coffee-Ginger-Pistachio cake is a good example of how my blog cajoles and convinces me to bake it fancy treats, and then leaves me to eat them. Of course, this cake wasn't all that fancy, to begin with; it started life as an iced-in-the-pan, square-tin sweet. But with the controlling Kitchenist whispering in my ear, I made some changes. That square in became a round one and the resulting cake got sliced in half to become a modest layer cake. With the rustically spread cream cheese frosting and the artfully sprinkled pistachio pieces, you'd almost think that someone other than me or my boyfriend was going to enjoy this thing.
Because in my book, this is the kind of cake that you make for a reason; dinner party, a birthday, something where "impressive" is on the menu. Generally, I ignore this brand of dessert and focus on simpler fare, like cookies, squares and loaf cakes. But I suppose there's nothing wrong with making something fancy for no reason at all. It keeps the blog happy, anyway.
Now if you'll excuse me, it's time for my evening run.
Coffee-Ginger-Pistachio Cake
adapted from The Guardian
makes one 9″ cake, cut into 2 layers
---
For the cake: 
50g unsalted butter
75ml milk
1 Tbs. ground coffee (not instant)
2cm piece of ginger, finely grated (about 1 Tbs.)
2 eggs
200g caster sugar
100ml neutral oil
75g pistachios, chopped
75g glacé ginger, chopped
275g plain flour
1 Tbs. baking powder
1/4 tsp. salt
For the topping: 
200g cream cheese, at room temperature
125g unsalted butter, at room temperature
zest of one lemon
2 tsp. lemon juice
175g icing sugar
25g pistachios, chopped
---
 Line the bottom of a 9″ cake tin with parchment and butter the sides lightly. Preheat the oven to 180°C/35°0F.
 Melt the butter in a small pot over low heat, then remove and mix in the milk, coffee and ginger. Set aside.
 Beat the eggs and sugar together with an electric mixer until pale and foamy, then beat in the coffee mixture and oil until well combined. Stir in the pistachios and glacé ginger then folds in the flour, baking powder and salt.
 Scrape the mixture into the prepared pan and bake for 30-35 minutes, until an inserted skewer comes out clean. Let cool completely before carefully slicing in half with your largest knife; separate the layers until ready to ice.
 To make the icing, beat the cream cheese with an electric mixer for one minute, until smooth and creamy. Add the butter and beat for another minute. Briefly, beat in the lemon zest and juice before adding the icing sugar and beating until just combined.
 Spread half the icing over the first layer of cake before carefully topping with the second layer. Cover with the remaining icing and sprinkle with the pistachios.