I hope you'll permit me to begin this post with a bit of a rant:
How unfair is it that it's only the beginning of August, and the days are noticeably shorter already? Obviously, I realise that science (or whatever- physics?) dictates that the Summer Solstice is some time at the end of June, and after that, the days get shorter. Fine, I get it. But if I was in charge of the world (and therefore physics answered to me), I wouldn't let the days shorten until the end of August at least. The whole thing just puts a damper on summer, doesn't it?
I didn't know this until this year, but the whole thing puts a bit of a damper on food blogging, too. See, food blogging requires food photography, and food photography requires natural light. Andrew and I tend to eat our evening meal quite late, especially in the summer. I can't get hungry for dinner until 8 or even 9 o' clock on most evenings. So far, it's been working well: I cook, snap a few photos in the kitchen, serve dinner, back in Andrew's praise of my prodigious talent, etc, etc.
The other night though, I ran into a problem with this routine. I played up the meal and set it on the kitchen table as usual, but try as I might, I just could not get a photo that wasn't blurry, too dark, or comprised of odd pasta-shaped shadows. I'm loathed to use a flash (horrible invention, that) so in the end, I just gave up. Luckily, the dish in question makes fantastic leftovers, so I was able to photograph some the next day, no problem. But it does beg the question: what on earth am I going to do come winter? Have dinner at 3 in the afternoon?
Well, I won't worry about that now, but I will share the meal that caused the question to pop up in the first place. This dish of leeks braised in white wine, served over pasta, is one of my favourites. I love leeks, and anything that gives them a starring role, rather than the bit-part they're too often confined to, is bound to appeal to me. Braising them in white wine until they're sweet and tender? I'm sold.
Adapted from a Jamie Oliver recipe, I've simplified this a touch, doing away with the Porcini Pangrattato (though it is delicious if you can be bothered), and adding a bit of cream for richness. It's fantastically made fresh and works as leftovers too; great for the obsessively photographic among us, no?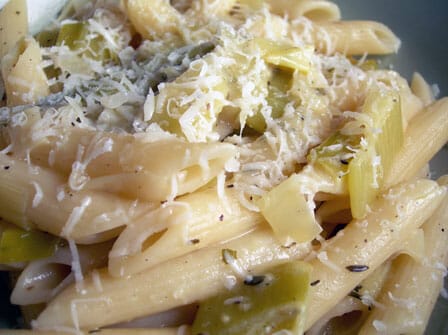 Pasta with Leeks Braised in White Wine
serves 3
---
250g pasta, any shape you like
3 good-sized leeks, outer leaves discarded
2 Tbs. olive oil
2 Tbs. butter
2 cloves garlic, sliced thinly
1 tsp. fresh thyme leaves (I've used dried in a pinch)
3/4 cup white wine
1/2 cup stock or water
1/4 cup cream
salt and pepper
grated parmesan, to serve
---
 Put a large pot of water on to boil. When it does, salt generously and add the pasta to cook according to package instructions.
 Meanwhile, slice the leeks into 1cm thick slices, white and light green parts only. Put in a colander and rinse very well- leeks can hide a lot of dirt! Drain and set aside.
 In a large heavy-bottomed pan with a lid, heat the olive oil and butter over medium heat. When the butter foams, add the garlic and thyme and cook for one minute. Add the chopped leeks and stir until everything is coated well.
 Pour the white wine and stock over the leeks and cover. Turn the heat down to low and allow to cook for 25-30 minutes, until the leeks are quite tender. You can stir occasionally and may have to add some extra stock or water to keep the dish from drying out- you want it thick and saucy, but not soupy.
When the leeks are tender, remove from the heat and stir in the cream. Salt and pepper to taste. You can serve this as a sauce over the pasta, or add the pasta to the pan and mix everything together- both are delicious. Serve with parmesan grated on top.