Where on earth does the time go? Over a week without posting here- oops! I didn't intend for that to happen, though I knew last week would be busy, what with starting a new job and schoolwork piling up (and no, I don't mean just baking for my classmates). Apart from my planned Valentine's dinner (Dana's lasagne went down a treat- you really must try it), my meals recently have been a mix of old standbys and fridge-cleaning experiments.
Before all this kicked off I managed to get out of town and let my hair down, at least for a few hours. Last Saturday Andrew and I took the train out of London and headed for the coast, where his grandparents live in a small seaside town. I love visiting them; no trip to their home is complete without a walk along the beach, accompanied in the summer by an ice-cream cone or cold beer (or both).
Since the weather these days doesn't lend itself well to either of those options, I made do with what I was offered at Andrew's grandparents' home. Since they both hail from Cyprus, and there is always an abundance of Greek treats in their house, from peanut-and-sesame Pastellaki to those toothsome, unnamed candies with the almond in the middle.
This time, there was a typical Cypriot cake- lemon, semolina and almonds in a sweet, slab-serving kind of affair. Though I left without getting the recipe, I was inspired to try a similar recipe at home in London. Tessa Kiros's Falling Cloudberries' had the answer for me, and this syrup-drenched cake was dessert the very next day.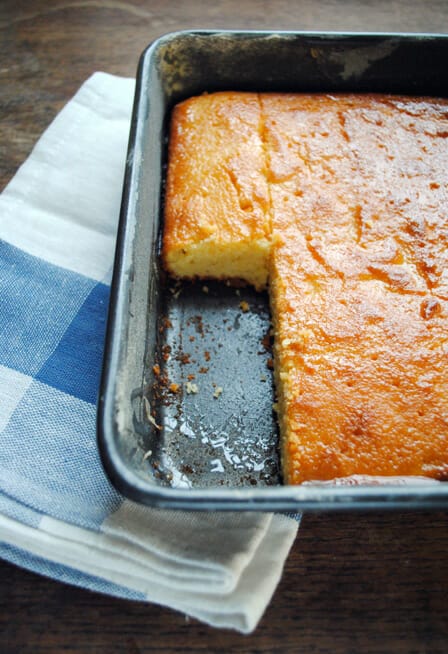 Cypriot Semolina Cake
adapted from Falling Cloudberries by Tessa Kiros
serves 16-20
---
For the batter:
125g (I cup) plain flour
125g (3/4 cup) finely-ground semolina (or use polenta, and whiz in a food processor to break it down)
55g (1/2 cup ground almonds
2 tsp. baking powder
125g unsalted butter, soft
230g (1 cup) caster sugar
250g (1 cup) plain yogurt
zest of 1 lemon
1 Tbs. lemon juice
3 eggs, separated
For the syrup:
1/2 cup sugar
juice of 1/2 lemon
1/2 cup water
---
 Preheat the oven to 180°C/350°F. Butter and flour an 8″ or 9″ square cake tin and set aside.
 Whisk together the flour, semolina, ground almonds and baking powder in a medium-sized bowl and set aside. Cream together the butter and sugar using electric beaters or a stand mixer. Add the yogurt, lemon zest, lemon juice and egg yolks, and continue beating until well incorporated. In 2 or 3 additions, add the dry ingredients to the wet and mix on low speed until just combined.
 In a separate bowl, whisk the egg whites until stiff peaks begin to form. Add to the batter and fold in until just uniform. Spread batter evenly into the prepared pan, and bake for 30-40 minutes, until golden on top and a skewer inserted into the middle of the cake comes out clean.
 After you take the cake out of the oven, make the syrup. Combine all ingredients in a small saucepan and boil gently for around five minutes. Prick the surface of the still-warm cake many times with toothpick or fork, and spread over the hot syrup (a silicone brush helps here). Let cake cool completely before cutting into squares and serving straight from the pan.