In my experience, there are two kinds of people: the shedders and the hoarders. Shedders like to live simply and modestly. Too many possessions weigh them down, and spring cleaning is like Christmas come early to them. Hoarders, on the other hand like, to be prepared, and can often be heard uttering the phrase "But I might need this some day".
For the most part, I'm a shedder. I might keep boxes of old journals for sentimental reasons, but I still love a good life edit. My closet, bookcase and flat all get a good once-over several times a year, and anything no longer useful or attractive (to me) goes. Seriously, the Oxfam around the corner has done well by me.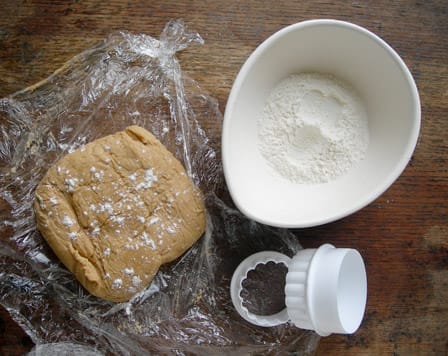 But my kitchen is a whole 'nother story. Rather than adopting the European practice of shopping daily, living in London has only made it clear to me how North American my shopping habits are. At any given time, my cupboards are home to four to six kinds of nuts, three varieties of seeds, three types of lentils, four kinds of beans, three different flours, three sugars and seven different pasta shapes. I love the freedom of knowing that it's in there, ready to be made into dinner/granola/cookies/ what have you at a moment's notice.
But every now and then my core personality takes over, and I begin to cook in what I call "cupboard-clearing mode". This economical setting can result in the delicious, the inedible, or the bizarre. The most recent bout (thankfully) learnt to the former, with these Brown Sugar Biscuits. Made in an attempt to use up the Chipits Skor Toffee Bits I found in my stocking last Christmas, these cookies feature one of my favourite flavour combos: chocolate, caramel and salt. A poster version of my Salted Caramel Brownie Cookies, they were inspired by the photo of this recipe from The Kitchn.
The biscuit base, adapted from a Nigella recipe, is neither too sweet not too rich, just a perfect base for the trio of flavours on top. Use good quality chocolate and flaky Maldon sea salt and the toffee bits become more than a novelty baking item. Of course, now I'll probably have to go out and buy more of them, completely working against my original intention. Oh well, at least I can't hoard these cookies- they don't last long enough!
Brown Sugar Biscuits with Chocolate, Toffee and Sea Salt
adapted from How to be a Domestic Goddess by Nigella Lawson
makes about 6 dozen 1 3/4″ cookies; more or less depending on size
---
For the biscuits:
175g unsalted butter softened
100g brown sugar
100g caster sugar
2 large eggs
1 tsp. vanilla
400g flour
1 tsp. baking powder
1 tsp. salt
For the tops:
150g dark chocolate
1-2 tsp. heavy cream (optional)
toffee pieces, for sprinkling (about 1/2 cup)
sea salt, for sprinkling (about 1 Tbs.)
---
 To make the biscuit dough, cream together the butter and sugars in a stand mixer or with a hand mixer until light and fluffy. Add the eggs one at a time, followed by the vanilla, beating for 30 seconds or so after each addition.
 Mix together the flour, baking powder and salt in a smaller bowl, and add to the wet ingredients in three additions. Gently beat or stir to combine.
 Separate the dough into two discs, wrap each tightly in clingfilm and put in the fridge for at least one hour. (At this point you can also choose to freeze one, which works well.)
 After an hour, preheat the oven to 180°C/350°F. Take one disc out of the fridge and roll it out to a thickness of 1/2 cm on a generously floured surface. (Leave the other in the fridge until you need to use it.) Cut out any shapes you like and place them, 1/2″ apart, on a parchment-lined baking sheet. Bake cookies for 8-10 minutes until barely golden on the edges. Cool completely before decorating.
 Melt the chocolate in a small saucepan over low heat, with the cream if using. (It's not strictly necessary, but I find that it guards against seizing and makes me less nervous.) Using the back of a small spoon, spread a little chocolate on the top of each cookie before sprinkling with the toffee pieces and a little sea salt. Allow chocolate to harden completely before eating.