To kick off my Italian-free month of eating, I wanted to share a dish that's become a favourite of mine in recent months. I've promised this one before and not delivered, so I thought it was high time that I shared the love.
This simple salad of Israeli cous cous (sometimes called "toasted" cous cous) and roast fennel, red onion and carrots was inspired by one served at the traiteur-caterer where I worked until recently. (Yup, I'm back on the hunt for gainful employment- anyone know of a London-based company looking for an editorial assistant or web editor? I bake delicious things and am good at sharing…) Whenever this salad came out of the kitchen, I'd pray there was still some left by the time my lunch break rolled around. Of course, I soon realised that I could quit the praying altogether if I just learned to make it myself.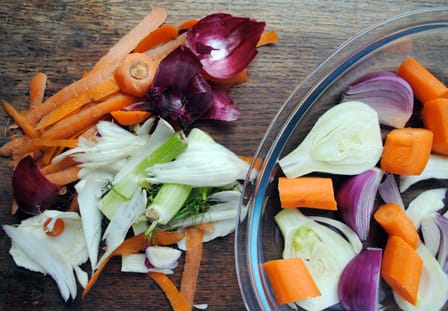 And it wasn't hard at all. This is less of a recipe and more of a suggestion; there's no secret ingredients or complicated techniques here. This dish relies solely on the quality of your ingredients, so as long as you have good vegetable stock (or – psst – good vegetable boullion), farm-fresh veggies and a quality olive oil, you're laughing.
This salad is one of those that's equally happy hot, at room temperature, or cold. It could be a side to some grilled meat or fish, but makes a wonderful lunch all on its own. It also travels particularly well, making this good picnic fodder for these summer months. So while I might be dreaming of slightly different food al fresco (focaccia, prosecco, gelato…), this will keep me happy in the meantime.
Toasted Cous Cous with Roast Veg
serves 4
---
1 fennel bulb
2 red onions
3 medium carrots
5 Tbs. olive oil
sea salt and black pepper
1 cup Israeli cous cous (sometimes called toasted cous cous)
1 1/2 cups vegetable stock (made with a good organic boullion is fine)
2 tsp. lemon juice
2-3 Tbs. finely chopped parsley
---
 Preheat the oven to 200°C/400°F while you prepare the vegetables. Remove the stems and bottom from the fennel bulb, and thinly peel away the outer layer with a vegetable peeler. Cut the bulb vertically into slices, about 3mm each. Peel the red onions and cut each into 8 wedges from top to bottom. With the carrots, simply peel and slice into 1″ chunks.
 Arrange the vegetables in a single layer in a roasting pan, and drizzle over 2 tablespoons of the olive oil. Season with salt and pepper, toss well and roast for about 35 minutes, tossing once or twice to ensure even cooking.
 Meanwhile, cook the cous cous. Heat one tablespoon of olive oil in a nonstick saucepan over medium-high heat. Add the cous cous and stir until well coated, then add the stock. Bring to the boil, cover and lower the heat. Simmer for 15 minutes, then remove from heat and let sit, still covered, for another 15.
 When the cous cous and vegetables are both done, add the rest of the olive oil, the lemon juice and the parsley to the cous cous and fluff it up with a fork. It may be a bit clumpy to begin with but persevere until all the pearls are coated. Toss the cous cous with the roast vegetables and serve immediately, or wait until the salad cools.