As you might have noticed, I've been going a little pumpkin-crazy lately. Sure, the little £0.75 numbers I get from my local farmer's market don't seem that big, but just one makes a heck of a lot of pumpkin purée! I've been using it in so many ways: a pumpkin and goat's cheese lasagne from Nigella's Christmas book, in some festive whoopie pies, even as a light-but-creamy pasta sauce with sage, nutmeg and ricotta. I'm watching myself closely for signs of becoming round and orange, convinced as I am that I'm thisclose to actually turning into a pumpkin.
So I'm promising you (and Andrew, but that's another story) that I'm done with this particular squash- at least for this year. But before I swear off pumpkin completely, I wanted to share this one last recipe. I made these delicious scones for breakfast on Saturday morning; with a mug of hot coffee, they were the perfect way to kick off the weekend.
I've talked about my love of scones here before- to me, there's no better way to start any day, really. The French can have their buttery croissants, the Americans their pancakes and the Irish their hearty cooked breakfasts- to me, no breakfast is tastier than a fresh, buttery scone.
After many years of scone-making, I've come to a slightly controversial decision about them: I truly believe that self-raising flour makes the best scones. Yes, you can easily make your own, and I often use recipes that call for baking powder or soda as a leavening. But when it comes down to it, I think I can taste the difference- a scone made with self-raising flour is lighter, more tender and altogether more delicious. (Also, it's just plain easier: if you're like me and tend to experiment with recipes, you can always use more or less flour, without needing to adjust the leavening quantities, too.)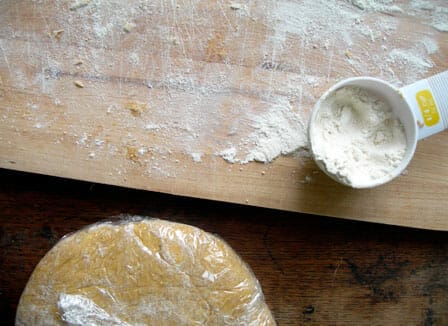 With that in mind, I followed a simple formula to come up with this recipe: self-raising flour, butter, moisture (in this case, the pumpkin). I added an egg for richness (for some reason, I like eggy scones in the morning, and eggless ones at tea time) and threw in those spices that seem to accompany pumpkin wherever it goes- cinnamon, ginger and nutmeg.
The result was a perfect breakfast scone: tender, rich and not too sweet, but flavorful enough to wake up your taste buds. The lemon-cinnamon drizzle was the icing on the, er, scone. But don't worry- true to my word, this is it for me and pumpkin. To satisfy my obsessive tendencies, I may have to return to last year's fixation, butternut squash. Hmm… I wonder what a squash scone would taste like?
Pumpkin Spice Scones
makes 6 large scones
Scones:
1 3/4 cups self-raising flour
1/4 cup packed brown sugar
1/2 tsp. ground cinnamon
1/2 tsp. ground ginger
pinch freshly ground nutmeg
1/4 tsp. salt
85g unsalted butter, cut into 1/4″ cubes, very cold
1/2 cup pumpkin purée
1 egg
Icing Drizzle:
1 Tbs. lemon juice
pinch ground cinnamon
1/4-1/2 cup icing sugar sifted
 In a large bowl, whisk together the flour, sugar, cinnamon, ginger, nutmeg and salt. Add the butter to the bowl and using a pastry cutter or your fingers, work it into the flour until the mixture resembles coarse breadcrumbs. Work quickly and don't overmix- you want some visible "chunks" of butter still remaining.
 In a small bowl, gently whisk the pumpkin purée and egg together. Add it to the flour mixture and gently mix it in, using a fork or dough whisk.
 Turn out dough onto a generously floured surface and give it a few quick kneads, just to bring it together. Form into a 1″ thick disc and wrap in several layers of plastic wrap. Remove dough to the freezer, for a minimum of 30 minutes or a maximum of 7 days. (If I want scones for breakfast, I'll do everything up to this point the night before. That way, all I have to do in the morning is bake them.)
 About 20 minutes before you want to bake the scones, preheat your oven to 200°C/400°F. Remove the disc of dough from the freezer and cut into 6 equal pieces with a large, sharp knife. Arrange pieces 1″ apart on a parchment-lined baking sheet.
 Bake scones for 20-25 minutes until lightly browned on top. Let cool on the baking sheet for 5 minutes, before removing to a rack to cool completely.
 Meanwhile, make the icing: put the lemon juice in a small bowl and add the cinnamon. Whisk in as much icing sugar as necessary to make an icing of drizzling consistency. When the scones are cool, drizzle over the tops in a zig-zag pattern, using a small spoon or sauce whisk.