I noted on the weekend that I haven't been posting many desserts lately, and vowed to step up my game. True to my word, I got right to it yesterday; I was in a cake-baking mood and had some berries from the market, so a strawberry-topped cake seemed just the thing.
I can't claim that this cake was entirely spontaneous though, being inspired by one I sampled a few weeks ago at the Books for Cooks test kitchen in Notting Hill. Simply called "Buttermilk Cake", it was a tender, the single-layered dream of a thing, piled high with fresh strawberries atop a thick layer of what I assume was crème patisserie.
The addition of semolina may or may not have been my own idea. With such a vague moniker as "Buttermilk Cake" I couldn't be sure that the Books for Cooks cake contained any, but there was a pleasing gritty texture to it, which my spidey sense (ok, my mouth) attributed to the Italian grain. Whether or not there was any is completely irrelevant, of course: I knew I was onto something with the thought.
As the idea ruminated further in my mind, I decided to throw some lemon zest in the mix, too. Growing up, my favourite cake was a lemon and buttermilk bundt, and I love the classic flavour combination. (Unfortunately, my mum never makes this cake anymore, being obsessed with cooked fruit desserts.) To stand up to these additions, I was after a specific kind of recipe. A light, fluffy buttermilk cake wouldn't do; I needed something a bit stronger. Several Google searches later I settled on Rose Levy Berenbaum's Country Buttermilk Cake. Made with four egg yolks, it's similar to a pound cake, but (thankfully) more light-handed with the butter.
The cake baked up perfectly, and the strawberries did their job nicely, too. The only disappointment here was in the middle. I'd never made crème patisserie before, so was perhaps a bit naive, but I hadn't expected it to be so runny, and I panicked a bit when it started to drip down the sides of the cake. My mistake might have been using this recipe from The Kitchn, which doesn't contain cornstarch, though having no previous experience with this, I can't be sure.
I haven't included a recipe for crème patisserie below, but the lack of it shouldn't affect the success of this. Use your own recipe if you have a good one (and feel free to send it to me!), or experiment with other toppings. A not-too-sweet buttercream would work here, or some stiffly whipped cream, or a simple dusting of icing sugar over the berries.
This cake is sweet and dense rather than heavy, with a lovely tang from the buttermilk and lemon zest. The strawberries and crème patisserie (though runny) perfectly balance the cake and keep things interesting. The only problem with this dessert is that, well- I've made it before. Sure, that time it was a tart, not a cake, and yes, it had a successful mascarpone filling instead of a failed crème patisserie topping, but there's no denying the facts: I'm in a strawberry-driven dessert slump.
So let's strike a deal. Let me off just this once, and I promise: there will be no more strawberry-topped cakes, pies, tarts or similar. At least until next year.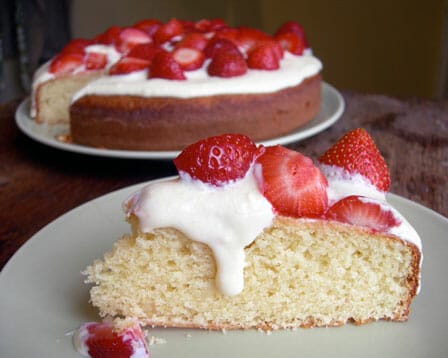 Lemon and Semolina Buttermilk Cake with Fresh Strawberries
adapted from Rose Levy Beranbaumv's Buttermilk Country Cake
---
4 large egg yolks

2/3 cup buttermilk

zest of one lemon

1 tsp. vanilla

1 1/2 cups plain flour

1/2 cup semolina

1 cup sugar

1 Tbs. baking powder

1/2 tsp. fine salt

8 Tbs. (or 4oz, or 113g) unsalted butter, softened

2 cups washed, trimmed and chopped strawberries
---
 Preheat your oven to 175°C/350°F. Whisk together the egg yolks, lemon zest, buttermilk and vanilla in a small jug and set aside.
 In a large bowl, mix together the flour, semolina, sugar, baking powder and salt. Add the softened butter, and using a hand beater or your fingers, work into the flour until the entire mixture represents fine breadcrumbs (it should be quite uniform).
 Pour in the wet ingredients, and either beat gently or mix with a spoon until just combined.
 Pour batter into a 9″ buttered and floured cake pan, preferably with a removable bottom. Bake for 30-35 minutes until golden on top. Cool completely, first in the pan and then on a wire rack, before continuing.
 When you're ready to continue, transfer the cake to a serving plate. Thickly ice the top only with crème patisserie, buttercream icing or whipped cream, if using. Arrange the strawberries as artfully or un-artfully as you like over the top, and serve.