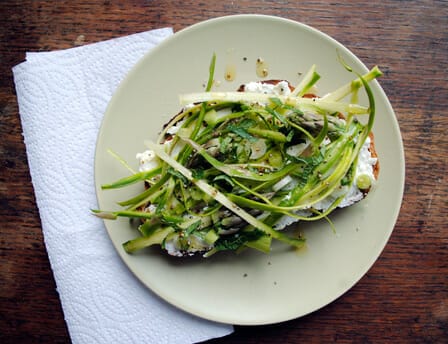 I crave a simple and beautiful lunch. Something light but satisfying, taking just minutes to prepare but good for savouring over the next twenty or so. Working from home at times (and at a job mere steps from my front door the rest of the time), this is a luxury that I can afford. And I must say, enjoying it helps makes up for those I can't.
Last week, this shaved asparagus pizza from Smitten Kitchen planted the seed of a luxurious lunch idea in my mind. Those delicate green shreds looked gorgeous, and the subtle flavour of raw asparagus is always a winner. The fact that it's only available for a brief time every year just adds to the allure, don't you think?
So if I had a flavour, I needed a form. A salad didn't seem substantial enough and the pizza had clearly been done. I was considering a tart when it hit me- a tartine. This French-style open-faced sandwich would be the perfect vehicle for those crispy ribbons of Summer.
This was actually the first time I made a tartine, though we've rubbed shoulders before. We first met at Holt's Cafe, the swanky department store eatery in Toronto which, for a brief moment in the early noughties, specialised in the dish. We became better acquainted via Le Pain Quotidien, the Belgian chain which has become a fixture of my New York City holiday brunches and London shopping mornings alike.
The tartines of my past have differed greatly in terms of texture and temperature. While the tartine I had at Holt's was toasted to oblivion (as in, crisp enough to cut the inside of my mouth) and hot, Le Pain's are served untoasted and cold, on soft fresh bread. After some consideration, I went for a happy medium: toasted enough to provide some bite and stability, but soft enough to avoid actual pain (always a plus).
Topped with some fresh ricotta, that lovely shaved asparagus and a drizzle of oil, this made one of the simplest and prettiest lunches I've had in weeks. A luxury I'll be repeating soon, I should think.
Shaved Asparagus Tartine
serves 1
---
3 asparagus spears
1 scallion
3-4 mint leaves
one thick slice of good bread (wholemeal and sourdough work well)
2 Tbs. fresh ricotta
quality olive oil, for drizzling
sea salt and black pepper
---
 First, prepare the asparagus. Rinse well, snap off and discard the woody ends, and trim the tips- reserve these for the tartine. Using a vegetable peeler, carve long, thin ribbons of asparagus. If the stalks are extremely tough, you may wish to discard the outermost ones. Also thinly slice the scallion (white and light green parts only) and the mint.
 Lightly toast the bread and let cool before spreading with the ricotta cheese. Arrange the asparagus ribbons over the top and sprinkle over the scallion and mint. Drizzle with a generous amount of olive oil, season with salt and pepper and enjoy immediately.