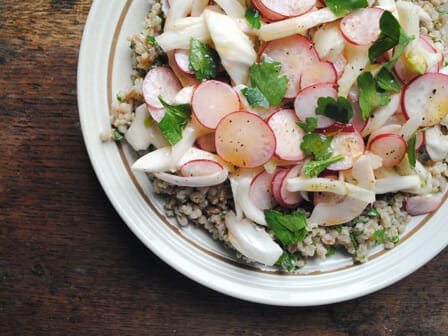 After weeks of glorious weather, London has reverted to the overcast skies and cool temperatures it likes best. I'm glad that I made the most of the warmer weather while it was here, with much window-opening, skirt-wearing and salad-making. I'm also hoping that it will get a bit warmer in time for the weekend, as I've got a shopping date with my sister and some London Marathon-watching (from the comfort of my couch, of course) on the agenda.
But even if the weather doesn't take a turn for the better, this grain and vegetable salad should fit in just fine. One of those perfect early-spring recipes, it combines crisp veggies with hearty mixed grains and wraps them all in a bright-yet-rich dressing.
Both fennel and radishes have that crisp, cool bitterness that heralds the arrival of warmer weather. Personally, I took my time warming to either of these vegetables; something about the aniseed-like flavour of fennel and the sharpness of radish put off the younger me. But now that I happily eat them, and together they're just perfect.
I'm calling this salad a grain one, but using the term somewhat loosely. I used a mix of farro, quinoa and giant couscous, but the purist in me is feeling obligated to point out that only one of those is, in fact, a grain. But no matter; what you're aiming for here is an interesting mix of texture and flavour; barley, wheat berries and millet would all work well, too.
What makes this salad really sing is the dressing. Butter might seem a strange choice and sure, olive oil would be tasty too (not to mention healthier). But salted butter is a natural ally of radishes, and paired with lemon juice and pepper, it brings all the flavours together and just works. Whatever the weather.
Grain, Fennel and Radish Salad w/ Butter-Lemon Dressing
serves 4-6 as a side dish
---
3 cups cooked mixed grains (try farro, wheat berries, millet, rice, quinoa and couscous)
1/2 cup finely chopped parsley, plus extra to garnish
1 small bunch radishes, thinly sliced
1 bulb fennel, sliced lengthwise and broken up
1/4 cup salted butter
juice of one lemon black pepper, to taste
black pepper, to taste
---
 Mix together the grains and parsley in one bowl, and the radishes and fennel in another
 Melt the butter in a small dish in the microwave, or in a milk pan over low heat. When it's completely melted, remove from heat and stir in the lemon juice, then season to taste.
 Add one-third of the butter-lemon dressing to the grains and mix well. Add another third to the vegetables and toss to coat. Arrange the grains on a platter and scatter over the vegetables. Drizzle over the rest of the dressing, and garnish with some more parsley. (Alternatively, you could just mix everything together in one big bowl and serve it like that).