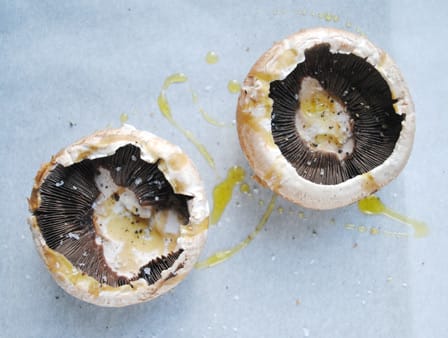 I've often spoken about leftovers before, and how they tend to be the bane of my existence. I'm not really one for scaling back recipes (didn't I leave math behind in high school?), and since I work from home on most days, I like to have lunch options that require little time and even less thought.
Occasionally though, faced with the prospect of launching on the exact same thing I had for dinner the night before, I get a little bored. I've learnt that with leftovers, it's essential to mix it up, or try to eat and same old, same old meal in a new way. I'll stick roasted veggies or leftover pasta dishes in an omelette (sounds strange but can be delicious), try tossing some new ingredients into the remnants of a salad, or turn some leftover curry or dahl into a tasty calzone or pasty filling.
But try as I might, I couldn't find a way to make leftover risotto enticing. Oh, it reheats fine on the stove, though it tends to be less al dente and more, shall we say, gummy, then the first time around. As much as I love risotto, I just could never work up the same enthusiasm for it a day or two later. Until now, that is. I'd made The Kitchn's Mushroom Risotto one night last week, and as I was polishing off my bowl, I hit on the perfect idea for lunch the next day. I'd been wanting to make Yotam Ottolenghi's Stuffed Portobello Mushrooms for ages, so I figured- why not just combine the two recipes? For once, I was actually looking forward to my leftovers.
So today's recipe isn't so much a recipe as a suggestion: use leftover risotto to stuff portobello mushrooms, top with cheese, and enjoy. Obviously, the mushroom risotto works perfectly for this idea, but I think a plainer one or even a tomato version would be just as good. If you've got the patience for it, I also think a miniature version, using a regular button or chestnut mushrooms, would make a charming canapé at parties.
Risotto-stuffed Portobello mushrooms
serves 1, easily multiplied
---
1 very large or 2 smaller Portobello mushrooms
olive oil, for drizzling
sea salt and black pepper, to taste
1/2 cup leftover risotto
2 slices Taleggio cheese (or other good melting cheese)
1 tsp. chopped parsley, to garnish
---
 Preheat the oven to 200°C/400°F and line a baking tray with parchment paper. Clean the mushrooms and remove their stems, then place upside-down on the tray. Drizzle with a little olive oil, season with salt and pepper and bake for 15 minutes, until softened and browning on the edges.
 Meanwhile, reheat your risotto on the stove top on in the microwave. When the mushrooms have baked, spoon the risotto into the mushrooms and top with the sliced cheese. Return to the oven for 8-10 minutes until cheese is melted and browning in places. Serve immediately, with a salad and garnished with parsley and a bit more olive oil.