I just love fresh peas. Not only are they delicious crisp and juicy, tasting of pure summer but they're fun, too. Unlike their difficult Springtime sister the broad bean, peas require very little in the prep department. There's no tearing at leathery skins and coaxing beans from their furry beds, before boiling and skinning them individually, Thank God. With peas, it's simply a matter of zipping open the pods and pushing out the perfect green jewels within. As monotonous kitchen chores go, pea-podding is pretty great.
There's probably another reason I love peas so much, and it's to do with childhood family vacations. See, I come from a family of foragers. My Mum, in particular, will help herself to anything she finds growing by the side of a country road or along a public footpath; wildflowers, holly for Christmas decoration, berries of all kinds. And many was the time when driving along some deserted stretch of highway in Nova Scotia or New Brunswick when she would shriek to my father "stop the car!", and we'd all get out and gather wild peas.
As embarrassing as this could be (and still is- just last year we paused mid-nature walk to forage for wild berries in Suffolk), I didn't really mind. Who could mind when wild peas are so deliciously snackable? As superior as fresh are, I even like frozen peas; a handful, straight from the freezer, has been a favorite snack for as long as I can remember. Certainly, they're useful to have when the weather makes successful foraging unlikely.
But it's July, and here in London we have fresh peas in abundance, and I don't even have to search for them. No, the farmer's market is groaning with the things and my mind is racing with all the recipe possibilities. This particular one was inspired by my newest cookbook (and current obsession), Plenty
 by Yotam Ottolenghi. Ottolenghi's "Green Pancakes", stuffed with fresh spinach, green onions, and chili, caught my attention immediately. But while spinach is all fine and well, I thought adding peas to that batter would be infinitely preferable.
I was right: this was one of the freshest and yummiest breakfast dishes I've had in ages. I say breakfast (and I'm putting them in that category), but these would be just as delicious for brunch, lunch or even dinner. If you're worried about the chili in a breakfast dish, don't be. They're spicy, but not overly so; the fresh peas keep things on the sweet side.
The original recipe features a yummy-looking lime butter, but that proved a bit too much work for me. Some regular butter (or yogurt) and a squeeze of lime juice are all these needs, though a fresh salad wouldn't go amiss, either. So, looking for a creative and seasonal spin on pancakes? Or maybe you need something to use up all the fresh peas in your fridge? No need to forage any further.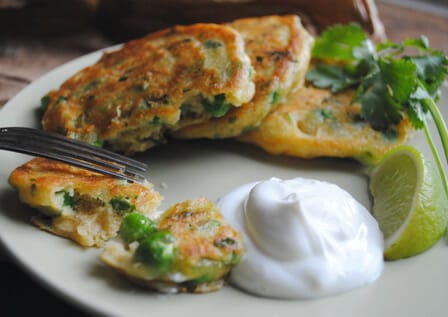 Green Pea Pancakes
serves 3-4
130g podded fresh peas
110g self-raising flour
1 Tbs. baking powder
1/2 tsp. ground cumin
1/4 tsp. ground turmeric
1/2 tsp. salt
50g unsalted butter
150gml milk
1 large egg
6 spring onions, finely chopped
1-2 green chilies, finely chopped
1/4 cup finely chopped coriander
zest of one lime
olive oil for frying
Greek yogurt, lime wedges or butter, to serve
Bring a small pot of water to the boil and simmer the peas for 3-4 minutes, until no longer raw but still crunchy. Rinse well in cold water and set aside.
Whisk together the flour, baking powder, spices and salt in a medium-sized bowl and set aside. In a small pot or a microwavable dish, melt the butter and allow to cool slightly. Whisk in the milk and egg, and add this to the dry ingredients. Whisk until batter is batter is blended but not perfectly smooth- a couple small lumps are okay. Add the peas, spring onions, chili, coriander and lime zest to the batter and stir well.
Heat and non-stick pan over medium-high heat, with just enough olive oil to coat the bottom. For each pancake, use approximately 2 tablespoons of batter- they will be about 1cm thick and 7cm wide. Allow cooking for about 2 minutes on each side, until you get a nice golden-brown colour. Remove to a paper towel while you use up the rest of the batter, adding more oil to the pan as needed.
Serve pancakes with lime wedges and Greek yogurt or butter, or Ottolenghi's Lime Butter.