My blog has amassed a small collection of what I like to think of as Random Fans. These are people who have been passed a link by a friend or family member of mine (most likely my mother), and who, rather than commenting on my site, refer their praise back to their own original source. So I get a lot of emails like "Your cousin made your chickpea salad and loved it" and "My friend Sarah's mum made those brownies last week- they were great!".
A couple weeks ago, I posted a Sardine Pasta which proved a hit with both Blog Readers and Random Fans alike. Though possibly its success was due to the guest appearance of seafood, I think it's more likely that the nature of the recipe – quick to throw together, filling and tasty – struck a chord. So I thought I'd share another staple weeknight pasta today, one which makes use of those perfectly cooked chickpeas I told you about the other day.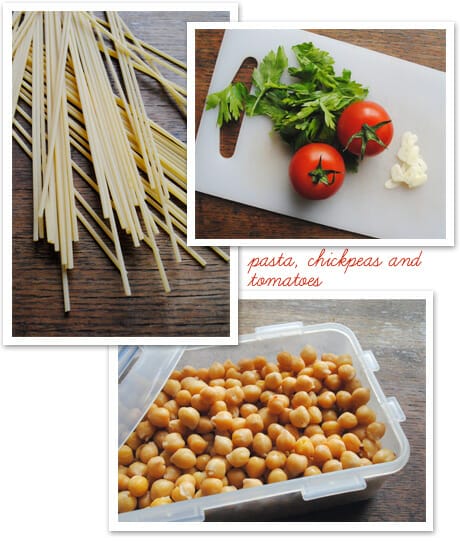 This dish started life as a simple Spaghetti Aglio e Olio, or spaghetti with garlic and oil. Simple, yes- perhaps a little too simple for me. Because I soon found myself "adding things" with wild abandon; some chickpeas from the fridge, freshly chopped tomatoes, a handful of chopped parsley. My version is still simple as pasta go of course, but the toothsome, chewy chickpeas and the sweet tomatoes add just enough oomph to make this feel like a meal.
So give it a go – I can't imagine anyone not being a fan of this dish.
Spaghetti with Chickpeas
serves 2
---
200g spaghetti
2-4 Tbs. olive oil
2 small garlic cloves, thinly sliced
1/2 tsp. chilli flakes, or to taste
1 cup cooked chickpeas
4 small tomatoes, roughly chopped
1/3 cup finely chopped parsley
parmesan cheese, to serve
---
 Put a large pot of water on to boil and salt it generously when it does. Cook the pasta until al dente, according to package instructions. When you drain it, reserve 1/2 cup of the pasta cooking water.
 Meanwhile, heat the olive oil over low heat in a nonstick saucepan. Add the garlic and cook very gently for 3-4 minutes; it's important not to burn it. Add the chilli flakes and chickpeas. Use the back of a wooden spoon to break up about 1/3 of the chickpeas, though most should remain whole.
 Turn the heat up to medium and add the tomatoes. Cook, stirring occasionally until they are hot through and lose their raw look- about 5 minutes. Add the parsley and remove the sauce from the heat.
 When the pasta is drained, add to the sauce along with a little pasta cooking water or extra olive oil, as needed to moisten the dish. Toss together well and serve immediately, topped with parmesan cheese.