I should begin with a caveat: I'm not really one for birthday cakes. Oh, I like eating them alright, but I rarely make the things, for myself or anyone else. I wish I could be like Deb or Dana, both of whom take the birthday cake tradition seriously, whipping up multi-layered, lusciously iced concoctions for their loved ones. Or even like my sister, who made a tasty, if untraditional orange bundt cake for her 30th this year. For heaven's sake, I don't even think I've ever even made a birthday cake for my boyfriend, though I have produced several batches of much-appreciated birthday brownies.
So this Pear and Maple Syrup cake wasn't really my birthday cake; I made it last Thursday, and truthfully it was all gone by Sunday. But I've never been one to let the facts get in the way of a convenient blog post, so let's pretend, shall we?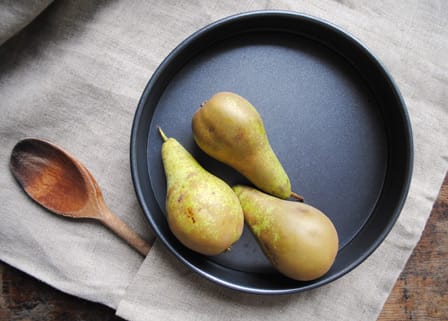 Over the last year or two, I've slowly but surely been getting over my fear of baked fruit. While there are still some things I can't ever imagine tucking into (Apple Pie, stay far away from me), and while I'd still rather a lemon, toffee or chocolate-themed dessert any day of the week, I've come to accept that fruit does indeed have its place on the dessert table. This cake is a perfect example; the caramelised pears, baked into a spice-scented sponge and infused with maple syrup, bring to mind all the flavours of Fall.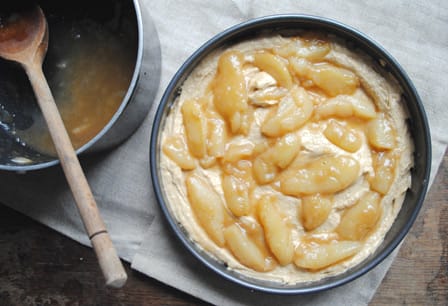 The recipe hails from Nigel Slater and coincidentally is included in his new book Tender, Vol II: A cook's guide to the fruit garden, which was one of my birthday gifts this year. I found the recipe online and changed it up a bit, adding in the ginger and using a darker sugar than specified. These tweaks made the recipe even more autumnal, which is a good thing. Because I may not be proficient in birthday cakes, but I'm a dab hand at cold-weather baking. Gingerbread and sticky toffee pudding, here I come.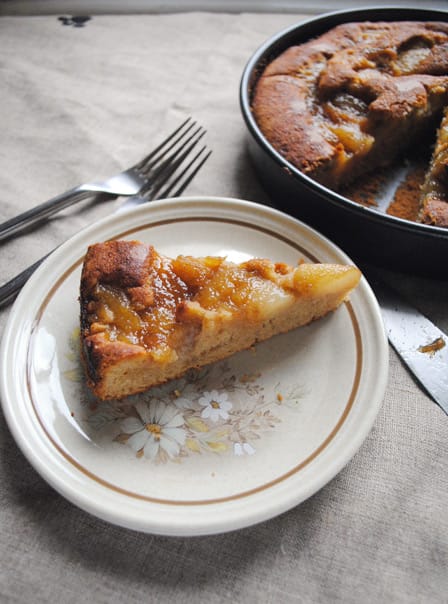 Pear and Maple Syrup Cake
adapted from Nigel later
---
For the pears:
450g pears (about 3 medium)
20g unsalted butter
1/2 tsp. ground ginger
pinch cinnamon
3 Tbs. maple syrup
For the cake:
150g plain flour
50g ground almonds
1 tsp. baking powder
1/2 tsp. ground ginger
1/2 tsp. cinnamon
100g unsalted butter, at room temperature
50g caster sugar
50g dark brown sugar
3 eggs
1/2 tsp. vanilla extract
---
 Peel and core the pears, then cut each one into 6 lengthwise wedges. Place in a saucepan with the butter, ginger and cinnamon and bring to a simmer over medium heat. Cook for 8-10 minutes, stirring gently every so often to make sure the pears don't stick. When the pears have softened but are still firm, add the maple syrup and wait until the mixture simmers again. When it does, remove from heat and set aside to cool.
 Preheat the oven to 180°C/350°F and butter a round 8″ cake tin.
 In a small bowl, whisk together the flour, almonds, baking powder, ginger and cinnamon until very well combined. Set aside.
 In a large bowl using an electric beater (or in a stand mixer), cream and butter and sugars until very light and fluffy. Add one egg and beat to incorporate, followed by 1/3 of the flour mixture. Repeat until all the eggs and all the flour has been incorporated. Briefly, beat in the vanilla.
 Spread the batter into the prepared cake tin and top with the cooled pears and their syrup. Bake cake for 35-40 minutes, until golden on top and a toothpick inserted into a dry bit of cake (ie, not through a pair) comes out clean. Allow to cool slightly, but this cake is best served warm.