Around here, Friday night is Pizza Night. I don't remember exactly when this tradition started, but sometime last year, I became obsessed with the idea of learning to make the best pizza. Not just a passable pizza, not a good pizza, but the best pizza. It was probably this post from The Kitchn that put the idea into my head in the first place, and it grew from there. Of course, anyone knows that there are two components to a great pizza: the dough, and the sauce. This instalment of Pizza Friday will follow my quest for crust gold.
I started my search for the perfect pizza dough recipe with the basic recipe posted on The Kitchn, but soon found it too boring. I wanted a pizza crust with more flavour, something that contributed to the finished product, instead of just holding up the toppings. Thinking I wanted a more developed bread flavour, I tried Heidi's recipe for Napoletana Pizza Dough, which many bloggers seem to love. I was unimpressed, even after trying the recipe for a second and third time. Maybe it was my flour or the humidity in the air, but I found the dough difficult to work with, and almost too elastic in feeling. And, call me crazy, but I don't think pizza should require a PhD to make well. Come on- food thermometers, multiple rises, special pizza-shaping motions, it's all a bit pretentious for my Friday Night Pizza.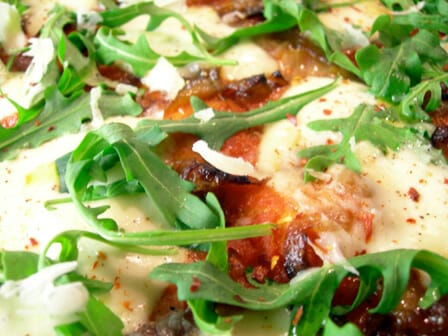 Eventually, I turned to Mark Bittman's recipe for Basic Pizza Dough from How To Cook Everything Vegetarian. It hit the nail on the head in several ways- easy to make (there is hardly any kneading involved), easy to handle, versatile and delicious. I began to play around with the variations Mark typically includes with his recipes and eventually hit on a combination that satisfies my pizza dream. I use one third whole wheat flour, not only because I prefer the taste, but because I find it difficult to make anything (save certain desserts) with all white flour. I also add a touch of brown sugar for sweetness and cornmeal for that pleasant crunchiness.
So, do I make the best pizza now? Well, probably not. I am woefully stone-and-peel-less, and I'm sure it's all kinds of wrong to claim that the best pizza is baked on a cookie sheet. My dough, however, I'm happy with. The perfect mix of softness and crunch, sweet and salty, it never fails to make a great pizza, and I haven't got bored of it yet. Next week: Sauce.
Pizza Dough
makes two large pizzas, each serving 2-4 people
1 1/2 cups plain flour
1 cup whole wheat flour
1/2 cup cornmeal
2 1/4 tsp. instant yeast
2 Tbs. coarse sea salt or kosher salt (halve this if you're using regular fine salt)
1 Tbs. packed brown sugar (optional)
2 Tbs. olive oil
approx. 1 1/4 cups warm water
 Mix the flours, cornmeal, yeast, salt and sugar together in a big bowl. Drizzle in the olive oil, and add the first cup of water. Mix together with a spoon or dough whisk, or else just go right in with your hands. Mix and squish away until it comes together in a cohesive, workable ball; you will probably have to add an extra 1/4 cup to 1/2 cup of water. Turn out onto a floured surface and knead for a few minutes, until the dough is smooth but slightly tacky. Form into a ball, coat with a bit of olive oil, and place in a bowl. Cover the bowl with clingfilm and leave it somewhere warm for about an hour.
 Once the dough has approximately doubled in size, punch it down and divide into two equal portions. Wrap one in clingfilm and place in your freezer for another day.
 When you're ready to make your pizza, take your ball of dough (defrosted and brought to room temperature, if previously frozen), and let prove under a tea towel for 15 minutes. Meanwhile, prepare your sauce and toppings, and preheat your oven. The rule for pizza is always turned your oven on full-blast, as hot as it will go. Professional pizza ovens reach temperatures that our commercial ones can only dream of, so don't worry about it getting too hot!
 Roll out your dough on the baking sheet with a rolling pin, a wine bottle, or else just squish it out flat-ish with your fingers. Top with sauce, cheese and whatever toppings you like, and place in the preheated oven for 8-12 minutes. Baking time will depend on how hot your oven can get; you want the cheese to be bubbling deliciously, and the edges of the crust to be just golden brown. Take out, allow the cheese to set up (that means cool) for a few minutes, and enjoy.