We all have our favourite flavours, right? The ones that keep tempting us, year after year, and become mainstays in our home cooking. Also, the ones that as food bloggers we have to watch ourselves on, lest we become known as "the girl who writes that goat's cheese blog".
For me, those flavours include goat's cheese (clearly), caramelised onions, butternut squash, leeks, broccoli, sun-dried tomatoes, cumin, ginger, coriander, thyme and lemon. (And those are just the savoury ones; you're lucky this isn't a dessert blog!) Anything that combines two or more of these favourite flavours is bound to win my affection.
Come, Autumn, when the squashes start appearing at the market, I go especially crazy for any combination of butternut squash with onions, nuts, sage, thyme and/or cheese. I've combined these ingredients, in various permutations, in countless pasta, risottos, tarts and salads. Yet still, I go back for more.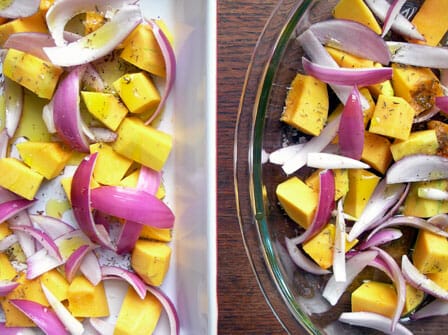 With that in mind, today's dish is a painfully obvious one. Yes, the onions here are roasted and so technically not caramelised, but the squash, goat's cheese and thyme are all present and accounted for. Sigh, I'm a predictable little thing, aren't I?
Heidi's recipe for Farro and Roasted Butternut Squash has been on my "to-make" list for some time, and a recent lunch at home with Andrew proved the perfect opportunity to add it to my roster of squash dishes. Since I've made rather a lot of farro-based salads lately, I was planning on replacing the farro here with brown rice or quinoa. Unfortunately, Andrew's alarmed face stopped that idea in its tracks, and pasta it was.
To that pasta (whole wheat, so it's not so bad) I added the roasted vegetables, some toasted nuts and some crumbled goat's milk cheese. A simple balsamic vinaigrette brought it all together perfectly. And yes, it might have been obvious, boring and run-of-the-mill, but it was also very, very good.
Oh well- you can't fight city hall, can you?
Note: This dish is meant to be warm and not hot, so don't worry about finishing all the steps at the same time. It's also good at room temperature or even chilled.
Roasted Squash with Whole Wheat Pasta
adapted from 101 Cookbooks' Farro and Roasted Butternut Squash
feeds 4
---
1 small butternut squash, peeled and cut into 1/2″ cubes
1 small red onion, peeled and cut into 12 lengthwise wedges
4 Tbs. olive oil
1/2 tsp. dried thyme (use 1 tsp. fresh if you have it)
pinch of sea salt
150g whole wheat pasta (conchiglie and orecchiette work well)
2 Tbs. balsamic vinegar
20g pinenuts
30g walnuts, chopped roughly
sea salt and black pepper, to taste
30g soft goat's cheese, crumbled
---
 Preheat the oven to 200°C/400°F. Put the cubed butternut squash in a shallow baking dish and scatter the pieces of onion (break them up as best you can) over the top. Add 2 Tbs. of olive oil, the thyme and a pinch of sea salt and toss well. Roast, tossing every 7 minutes or so, for approximately 25 minutes, until the squash is tender and browned. When you remove it from the oven, stir in 1 Tbs. of balsamic vinegar and set the dish aside to cool.
Meanwhile, bring a large pot of water to the boil and cook the pasta according to package instructions. When it's done, drain and remove to a large bowl. Toss with 1 Tbs. of olive oil and 1 Tbs. of balsamic vinegar and set aside.
 Heat a small frying pan over high heat. When it's hot, add the nuts and cook for 3-4 minutes until nicely toasted (toss frequently). Remove from heat to cool.
 When the squash and onions are cool enough to handle, remove roughly half the onions (I chose the burnt, ie less pretty, ones) and chop them finely. Dump them into the bowl containing the pasta, followed by the squash and rest of the onions, two-thirds of the nuts and the remaining 1 Tbs. of olive oil. Mix everything together gently and add salt and pepper to taste. Sprinkle over the goat's cheese and the rest of the nuts and serve.