I don't do a lot of presentation with my cooking. In a lot of ways, that's not really like me; as an art-school girl who went from fashion to photography to interior design, I'm big into aesthetics. But I prefer to rely on a pretty bowl or the natural vibrance of my ingredients to add interest to my meals. I guess I'm just lazy.
Or it could be that presentation seems to go hand-in-hand with dinner parties, of which I regretfully hold very few (read: none). Social butterfly bloggers like Dana are always making pretty appetizers for their guests, wowing them with style as well as flavour. But for me, Andrew and the select few pals who come round for dinner or cake occasionally, I don't tend to go all out.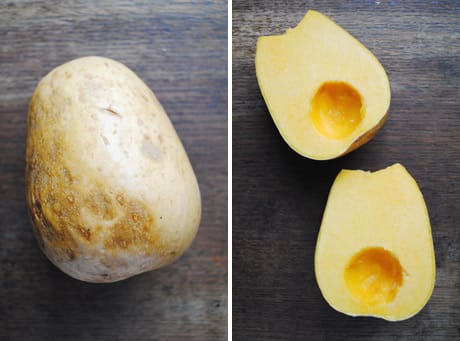 That said, I'm always impressed by a beautiful presentation at restaurants, or when eating at someone else's home. I'm a sucker for cute, and the whole things stuffed, wrapped or topped with other things food group is high on my favourites list. Which is why, when I had the idea for these quinoa-stuffed Squash Boats, I knew they'd be worth the effort. Butternut squash is an all-time favourite of mine anyway, and making the quinoa salad, studded with sun-dried tomatoes, feta and fresh herbs, could hardly be described as taxing.
In the thirty minutes or so it took for me to whip this lunch together, I learned a lesson. Every now and then, taking the time for lovely presentation can be a good thing. Especially when it doesn't take much time at all. And even when it's just for you.
Squash Boats with Quinoa Salad
serves 2 (easily multiplied)
1 small-medium sized butternut squash
2 Tbs. cold-pressed hemp or rapeseed oil
1/2 cup uncooked quinoa
1 cup cold water
1/4 cup finely chopped sun-dried tomatoes (packed in oil or vacuum-packed)
1/4 cup finely chopped basil
1/4 cup finely chopped coriander
1/2 cup cubed feta cheese
sea salt and black pepper, to taste.
1. Preheat the oven to 200/400°F. Wash the squash and halve it lengthwise; remove and discard the seeds. Brush with 1 tablespoon of the oil and pierce open face several times with a fork or sharp knife. Place squash halves face-up directly onto oven rack. Roast for 20-25 minutes, until tender to the point of a knife in the very centre. Remove and let cool for at least 5 minutes before handling.
2. Meanwhile, bring the quinoa and water to the boil in a small saucepan. Simmer uncovered for about 10 minutes, until all the germ and seed have separated. Then cover tightly and remove from heat, allowing quinoa to sit and absorb the excess water for another 10 minutes.
3. Fluff the quinoa with a fork and stir in the second tablespoon of oil. Add the tomatoes and herbs, and when it is cool enough not to melt it, the feta.
4. When the squash is cool enough to handle, use a small teaspoon to remove the flesh from the skin, leaving a layer about 1/4″ thick to strengthen the "walls". Roughly chop this squash or spoon it directly into the quinoa; toss well and season to taste.
5. Carefully fill the "boats" with the quinoa mixture, sprinkling over some extra herbs or cheese if you like. Serve with a green salad.