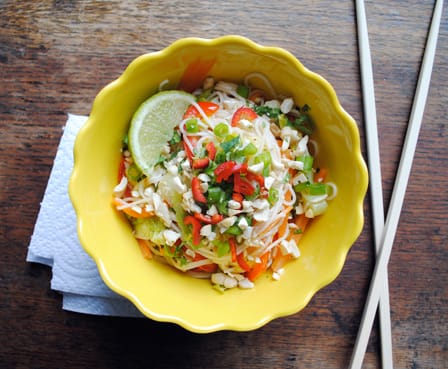 I first had Pad Thai on a snowy day in New York City about seven years ago. Andrew and I were visiting my cousins Jeff and Natasha (they of the fab Brooklyn shops UVA Wines and Whisk– I come from good foodie stock, don't yah know) for a bit of pre-Christmas shopping and sightseeing. One evening, they took us for dinner at a Thai restaurant in the East Village, where I had my first bite of those tangy noodles, tossed with tender shrimp, chewy tofu and crunchy peanuts.
It seems bizarre to me, now, that I could have lived to the age of 20 without trying Pad Thai. Loved the world over, it's since become a favourite of mine, and particularly of Andrew's. Often one of the only vegetarian options on a fusion-focused menu, I've spent many an evening chowing down on this delicious dish.
But when I make Pad Thai at home, I salad-ify it. I'm not worried about being inauthentic (there are so many Pad Thai recipes kicking around that I'm not convinced there is one proper way to make it), but am more concerned with versatility and stackability. Simply put, I don't really care what temperature I eat this at. Served right away, the residual heat from the veggies and sauce will give it an authentic, rib-sticking warmth. Wait a while and the flavours mellow into a nice room-temperature dish that can be either main or side. Kept in the fridge and this becomes the stuff of snacking legend, refreshing and flavourful and ready at a moment's notice.
Another reason I'm calling this a salad is its lack of protein. While I love the tofu, egg and prawn-laden versions served up in restaurants (NYC or elsewhere), I'm not so keen on those items when cold and two days old. Same reasoning behind the prudent amount of dressing; an overly "saucy" Pad Thai can get soggy in the fridge, while this version keeps for days.
Not that it does, of course. I did say it was snackable.
Note: For this recipe, peanut oil will give the most authentic flavour, but any neutral oil will do. I'm a lazy rebel, so I just use olive.
Phad Thai Noodle Salad
adapted from Mark Bittman's How to Cook Everything Vegetarian
serves 4
---
For the noodle salad:
200g rice noodles
1 Tbs. + 1 tsp. neutral oil
1/2  green cabbage, shredded
1 red bell pepper, cored and finely sliced
1 carrot, cut in half lengthwise then julienned
1 red chilli, finely chopped
3 green onions, finely chopped
1/4 cup chopped coriander
1/4 cup chopped peanuts
lime wedges, to serve
For the dressing: 
2 Tbs. Thai fish sauce (or use soy sauce)
2 Tbs. lime juice
2 tsp. tamarind paste
2 tsp. sugar
---
 Put the noodles in a large pot or bowl and cover with boiling water from the kettle. Cover with a lid or plate and let soften according to package directions- anywhere from 5 to 15 minutes. When tender, drain and rinse the noodles with cold water. Place in a large bowl and toss with 1 tsp. of oil to keep from clumping.
 Heat the rest of the oil in a large non-stick pan over medium-high heat. Add the cabbage, red pepper and carrots and cook for 3-4 minutes; long enough to tenderise and get a bit of colour, but quickly enough to retain most of the crunch.
 While the vegetable cook, make the dressing. Simmer all ingredients in a small pot over a gentle heat, whisking frequently, until the tamarind paste dissolves and you have a uniform sauce. You will want to add several tablespoons of water to achieve a "saucer-like" consistency; it shouldn't be too thick or gloppy.
 When the vegetables are wilted but still crunchy, remove from heat and toss with the noodles in the bowl. Pour over the dressing (using a sieve to strain out any tamarind bits, if need be) and also mix in half of the chilli, green onions, coriander and peanuts. Toss everything well.
 Arrange the noodles on a large platter, or remove to individual bowls. Scatter the remaining chilli, green onions, coriander and peanuts over the top and serve with lime wedges.