What do you eat, when you're eating alone? Say your husband/boyfriend/roommate is out for the evening, and you're settling in to dine solo. You've got your favourite embarrassing music on, or maybe you're eating in front of the TV, watching that show you love that they just don't get (my choice would be Gossip Girl or Ugly Betty, depending on the night). What's on your plate?
Some people can't be bothered to cook, minus the adoring audience. While I'm not really in it for the praise, I admit that I'll often turn to a quick standby like scrmbled eggs if it's just me. Some use solitary evenings as an opportunity to experiment, testing new recipes or ingredients. Still, others make the things they love but their partners' can't stand, an approach I like. Specifically? I have risotto.
On the surface of it, risotto hardly seems worth making for just one person. All that ladling and careful stirring, when there's no one around to praise you? Bizarre, you might think. Unfortunately, I don't get to make it for others that often. Andrew isn't the biggest risotto fan (he thinks it's "too much of the same flavour") and I find it a bit time-consuming to make on the rare occasions we have friends over for dinner.
So if I want risotto, it's got to be per Uno. Luckily, I was in just such a solitary situation the other day, when Andrew went out for drinks with a friend. The only problem was my lack of ingredients; no stock, barely any vegetables, and only a few sprigs of sage in the way of fresh herbs. Still, I wasn't to be deterred and dreamed up this tomato-sage risotto as a way of using up what little I did have.
In place of a pan of bubbling stock, I used a little Marigold Bouillon Powder and water from the kettle, which was so quick and easy that I'm now wondering why I even bother doing it any other way. The tomato-sage combination wasn't as odd as I'd feared, and in fact, it made a nice autumnal change from the more obvious tomato-basil. In the end, this was a perfect single-serving TV dinner.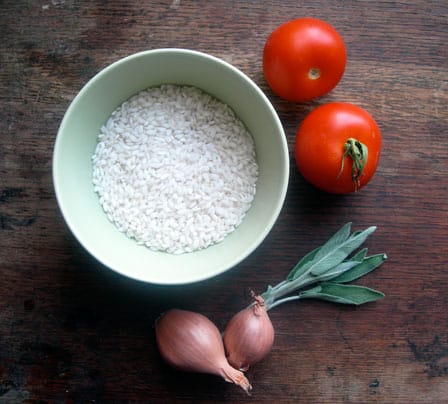 Tomato Sage Risotto
serves 1
---
1 Tbs. butter
2 shallots, finely chopped
1 tsp. finely chopped sage
1/2 a garlic clove, minced
1 Tbs. tomato paste
2 smallish tomatoes, skinned, seeded and chopped
115g arborio rice
1/4 cup white wine
1/2 tsp. bouillon powder
2 Tbs. grated parmesan cheese
sea salt and black pepper
---
 Bring about 1 litre of water to boil in a kettle by the stove. In a heavy-bottomed saucepan, melt the butter over medium-high heat. Add the shallots and cook until soft and translucent.
 Add the sage and minced garlic and cook for another 2 minutes, until fragrant. Add the tomato paste and tomatoes, and cook for another 2 minutes until bubbling. Add the rice and stir until everything is well coated.
 Pour in the white wine and stir until it has absorbed, about a minute or two. Then add about 1/2 cup of water from the kettle (there's no need to measure, just add a bit at a time) along with the bouillon powder and stir until that has also absorbed.
 Continue adding water from the kettle a little at a time, stirring after each addition to make sure it's been absorbed, before adding the next amount. Do this for about 16 minutes, then begin to taste the rice.
 When the risotto is cooked to your liking, remove from the heat and stir in the parmesan cheese, and season to taste with salt and pepper. Serve with more parmesan and crispy sage leaves (fried in a little butter), if you like.