What is your favourite cookie? No, I don't mean cookie recipe (though I'll take those, too), but your favourite commercial cookie. That four-letter word is one us home bakers are reluctant to utter, but let's be honest with ourselves- everyone's got one.
Or, if you don't have a favourite shop-bought biscuit now, perhaps you did when you were little? As a kid, my pick was Dad's oatmeal cookies; a mature choice, it occurs to me now. Sure, I enjoyed the odd Oreo and flirted with Fig Newtons, but I loved the buttery crunch of Dad's. (The fact that they were also my own Dad's favourites always seemed fitting to me, too.)
Britain, it seems, has slightly fancier tastes than mine: the Custard Cream is this nation's favourite biscuit. For those of you on the other side of the pond, this classic cookie consists of two vanilla biscuits sandwiching a thick layer of custard cream. Delicious for dunking into tea, its broad appeal works on children and pensioners alike.
Despite its popularity, I hadn't seen a recipe for homemade custard creams until I received a copy of Nigella Lawson's Feast for Christmas last year. But of course- if anyone was going to take a British classic and put a homespun spin on it, Nigella was.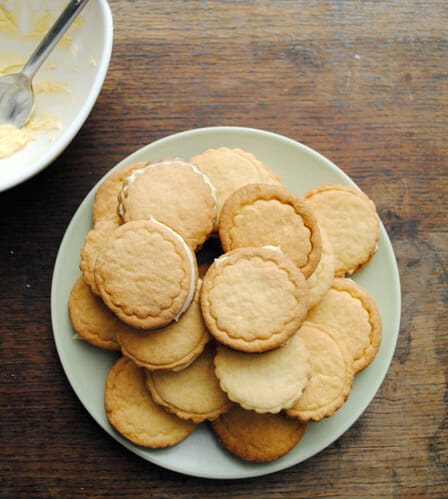 It's a relatively simple recipe, but you'll have to hunt down some custard powder if you want to make it. What I don't suggest is trying to do anything fancy with the shape; this dough can be tricky to handle and frilly shapes or decoration (as I attempted here) can result in er, rustic looking biscuits.
But still, they taste great; the biscuit is short and not too sweet, and the custard filling is rich and creamy. While I doubt these could ever replace my beloved Dad's, at least now I can enjoy their taste, without suffering any of that pesky shop-bought guilt. The best of both worlds, then.
Custard Creams
adapted from Feast by Nigella Lawson
makes 14-20 sandwich cookies, depending on size
---
For the biscuits:
175g plain flour
3 Tbs. custard powder
1 tsp. baking powder
3 Tbs. caster sugar
100g unsalted butter, cut into 1cm cubes
1 egg
1/2 tsp. vanilla extract
up to 1 Tbsp. milk
For the custard cream filling:
100g icing sugar
1 Tbs. custard powder
50g unsalted butter softened
1 tsp. boiling water
---
 To make the dough, pulse the flour, custard powder, baking powder and sugar together in a food processor until blended. Add the butter and pulse until the mixture resembles breadcrumbs. (If you don't have a food processor, use your fingers or a hand blender.) Add the egg and vanilla extract and mix until the mixture comes together in a smooth bowl. If it's still too dry, add the milk a drop at a time until it's moist enough. Gather the dough into a ball and wrap tightly in clingfilm; let rest in the fridge for at least 20 minutes or as long as 48 hours.
 Meanwhile, make the custard cream filling. Mix the icing sugar and custard powder in a bowl, then blend in the butter with a hand mixer. Add the boiling water and blend until smooth. Set aside until ready to use (you may want to put it in the fridge if it's a warm day).
 Just before you're ready to bake the cookies, preheat the oven to 180°C/350°F. Roll the dough out on a well-floured surface to a thickness of about 4mm. Cut out your biscuits with a cookie or pastry cutter, and place on a parchment-lined baking sheet. Bake for 12-15 minutes until just golden at the edges, then remove to a rack to cool completely.
 When the biscuits are cool, sandwich them together with approximately 1 tsp. of filling, using a small spoon. Store in an airtight container.