They do say that necessity is the mother of invention, and though I cant quite claim to have invented muffin-cup frittatas (it seems that, oh, 90,000-odd people thought of it first), Id says the phrase definitely rings true here.
As a vegetarian who isn't particularly interested in developing a protein deficiency, I eat a lot of eggs. Not only for the nutrients they provide but because they're just so darn delicious. Scrambled eggs are a favourite around here, as are frittatas and, when I've got the time, quiches. The problem with the latter two options is the size issue- a 10″ tart or frittata makes sense for an evening meal or a weekend brunch with friends, but not for a solitary, mid-week lunch. Unfortunately, it seems like those times are exactly when I crave this type of food.
The other day was just such an occasion; home alone, only moderately hungry, but craving a frittata. I was all set to ignore my stomach's rumblings and toast myself an English muffin instead when I remembered something I'd seen on a favourite blog at least a year ago: miniature frittatas, baked in muffin cups.
The flavours here are a favourite combination of mine, and I like them in any egg dish: frittatas, omelets or even scrambled eggs. The combination of feta and mint is pure Mediterranean summer, and the addition of pasta gives the frittatas a body and bite that they wouldn't otherwise have.
To that end, be warned: these adorable and innocuous-seeming little guys are filling. I could barely manage one (though that might have been due to all the snacking I was doing while cooking them- mmm pasta and feta). Luckily they keep well and are fantastic cold or at room temperature, too.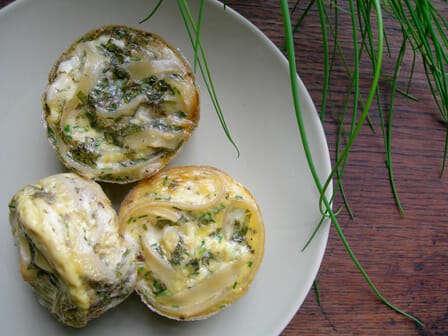 Muffin-cup Frittatas with Pasta, Feta and Mint
makes 4 mini frittatas (perhaps more, if your muffin cups are small)
60g linguine, fettuccine or other long pasta shapes
3 eggs
2 Tbs. water
2 Tbs. finely chopped mint
2 tsp. finely chopped chives
sea salt and black pepper, to taste
40g feta cheese
Put a large pot of water on to boil, salt it, and cook the pasta according to package instructions. When al dente, drain and rinse with cool water.
While the pasta cooks, preheat the oven to 175°C/350°F. Butter the inside of 4 muffin cups very well (or use silicone) and set aside.
In a small bowl, whisk the eggs with the water, herbs and salt and pepper until well blended. Set aside.
Divide the now-cooked-and-rinsed pasta between the four muffin cups. Crumble the feta and divide it between the cups as well, pushing it down in between the pasta. Pour the egg mixture over so that each cup is 3/4 full.
Bake for 20-25 minutes, until frittatas are just dry and still spongy when touched in the middle. Let cool for 5 minutes before serving.