How do you feel about gnocchi? Unlike its close cousin pasta (which every sane person on the planet adores, and if you claim otherwise I simply won't believe you), gnocchi tends to divide people. I can completely understand, having a love-hate relationship with the little Italian dumplings myself. A lot of it depends on the quality of gnocchi you've had; pillowy, light-as-air morsels will make you a lifelong convert, but dense hockey pucks hardly inspire fervent devotion.
It's not just eating gnocchi that can be dangerous ground, but making them, too. About twice a year or so, I'm struck with the urge to rise, knead, roll and boil a batch up, but there's really no rhyme or reason to how they turn out. Sometimes they'll be delicious beyond words, but there's no guaranteeing that I can replicate that success next time. Just as often they'll be tough and rubbery and cause Andrew to ask me "Why do you try to make gnocchi?" with a mournful look on his face. In fact, I'm not convinced that gnocchi success is ever down to any particular recipe, but maybe more arbitrary factors; the size of your potatoes, the temperature of your kitchen, the colour of your apron.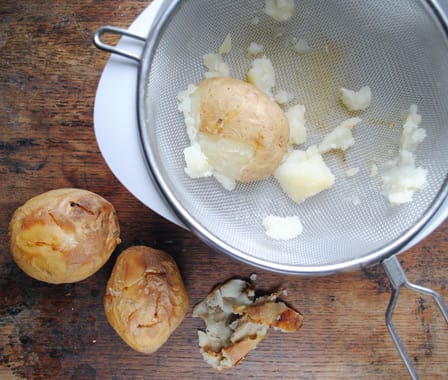 Having said that, I have picked up several tips via my adventures and misadventures in gnocchi making. The first is simple: do not overwork the dough. Much like making scones or pastry, you're aiming to mix until just combined, knead until just soft, touch as little as possible. The other tip is to use a finely milled flour. Italian "00″ grade is perfect for this, and the fact that it's somehow denser, yet lighter, means that much less of it is needed.  I'm not generally a fan of keeping loads of different flours around, but this is one place where it pays to be frivolous.
Once made, gnocchi can be a vehicle for any number of delicious sauces. You omnivores will probably love it with a meat ragu (I did, in days gone by), and I like it with pesto, cream sauces or baked with veggies. Tonight I'll be enjoying the rest of this batch with cheese sauce and broccoli- a tasty twist on macaroni and cheese. It's like I said- everyone loves pasta, no?
Fluffy Gnocchi
adapted from In Praise of Sardines
serves 4 (makes approx. 80 gnocchi)
---
3 medium baking potatoes (about 1½ pounds total)
1 egg
pinch freshly grated nutmeg
½ tsp. sea salt
1 cup "00″ grade flour, plus extra for dusting
---
 Preheat the oven to 230°C/450°F. Clean the potatoes and prick them all over with a fork or sharp knife. Place on a baking sheet and cook for about one hour, until very tender inside. Allow to cool for at least half an hour, so you can easily handle them.
 Cut the potatoes in half and using a potato ricer, grate the soft flesh into a large bowl. If you don't have a ricer, just use a wire sieve like I do. The potatoes should yield about 1 1/2 to 2 cups of flesh; if you have more, reserve the rest for another purpose. Let the potatoes cool completely in the bowl.
 Beat the egg in a small bowl, together with the salt and nutmeg. Add to the cooled potatoes and mix with a wooden spoon until just combined- do not overwork! Add the flour and gently fold in until soft dough forms (you may need a little more flour).
 Turn dough out onto a well-floured surface and knead for about 1 minute, until smooth. Divide into 4 equal pieces, dusting each with flour before you set them aside. Working with one piece of dough at a time, roll them into a long tube about 1/2″ in diameter. Using a sharp knife, cut into 1/2″ pieces on a diagonal.
 Line a large baking sheet with parchment and dust it with flour. Take the gnocchi and roll each over the back of a fork, so that one side of each will have deep ridges (these help the gnocchi "hold on" to the sauce). Remove to the baking sheet and continue until you have formed all the gnocchi.
 To cook the gnocchi, bring a large pot of salted water to the boil. Working in batches, add half the gnocchi and give a gentle stir to ensure they don't stick to the bottom. Cook for 3-4 minutes, until the water has returned to a simmer and the gnocchi is all floating. Remove to a colander with a slotted spoon, and repeat with the second batch. Serve gnocchi with whatever sauce you like.