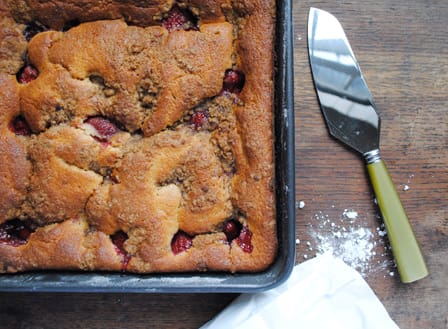 Eeek, Thursday already! How did that happen? I've been busy with a freelance photography job this week, and between that and getting ready for my upcoming Italian break, I've barely had a moment for blogging. Any second that wasn't spent taking, uploading or editing photos was automatically bookmarked for restaurant research, laundry and last-minute purchases. Do we think four bottles of sunscreen is enough for five days?
I had hoped to post some more recipes this week; though I might be busy, I've still been eating pretty well. But I'm realistic about the likelihood of me finding time to post again before Sunday morning (not likely), so this will be it for another ten days or so. But talk about going out with a bang! This Strawbuckle (get it? Strawberry Buckle?) is one of the yummiest desserts I've made in months, and certainly my favourite strawberry dish of the season.
Like I said on Sunday, I was a little down about the impending end of strawberry season, so I wanted one last strawberry shebang (incidentally, another awesome dessert name) before I went away. My galettes had been somewhat of a disappointment, and nothing this summer had come close to the levels of deliciousness reached by last year's Strawberry Mascarpone Tart.
I had my work cut out for me, but luckily inspiration was close at hand. Deb had recently posted a nectarine buckle, both the name and description of which piqued my interest. This American take on cobbler has three components: cake batter, fruit and a streusel topping. On baking, the batter puffs up around the sinking fruit, causing the cake to "buckle". And since I love any opportunity for wordplay, my Strawbuckle was born. (Seriously, not kidding about the wordplay. My best friend will confirm- my favourite one during university was "Can I borrow your awl? I've looked all over for mine." Perhaps something I shouldn't admit on the internet.)
I changed Deb's recipe up a bit, cutting down on the sugar (though it's still a very sweet cake, be warned) and replacing some of the white sugar with brown. The combination of brown sugar and strawberries is one that isn't celebrated enough, I always feel. The obvious summer-ness of the fruit is strangely complemented by that molasses sweetness, usually associated with winter baking. Adding the tartness of sour cream into the mix takes things to another level, so I did that, too.
I certainly won't be eating like this next week in Italy- gelato and prosecco are the indulgences I have in mind for them. But since I also won't likely be enjoying British strawberries for another year, I figure what's the harm of indulging now? So, until we meet again…
Strawbuckle
adapted from Smitten itchen
makes one 8″ x 8″ square cake
---
For the cake:
1 1/2 cup plain flour
2 tsp. baking powder
1/2 tsp. salt
113g (1/2 cup) unsalted butter, softened
1/2 cup sugar
1/4 cup brown sugar
2 eggs
1 tsp. vanilla extract
1/2 cup sour cream
1/4 cup milk
380g strawberries washed and hulled
For the streusel:
57g (1/4 cup) unsalted butter, very soft
1/4 cup brown sugar
1/4 cup plain flour
pinch mixed spice (or cinnamon)
---
 Preheat the oven to 175°C/350°F. Prepare an 8 x 8″ cake pan by greasing and flouring. In a small bowl, whisk together the flour, baking powder and salt and set aside.
 With an electric beater or in a stand mixer, cream together the butter and sugar until light and fluffy. Add the eggs one at a time and the vanilla, and beat until incorporated. Next, beat in the sour cream and milk- the mixture may curdle at this stage, but don't worry. Add the dry ingredients in three additions and mix well, scraping down the sides of the bowl. The mixture will come together into a smooth cake batter.
 Spread the batter evenly into the prepared pan, and dot the strawberries over the surface.
 To make the streusel, mix together all ingredients using an electric mixer, a spoon, or even your fingers. It should reach a breadcrumb-like consistency. Sprinkle the streusel over the top of the cake, in between all the strawberries.
 Bake the buckle for 40 minutes- the strawberries will sink and be barely visible, while the streusel-topped cake will puff up brown and golden. Allow cooling completely before serving, as the fruit layer makes this cake delicate.