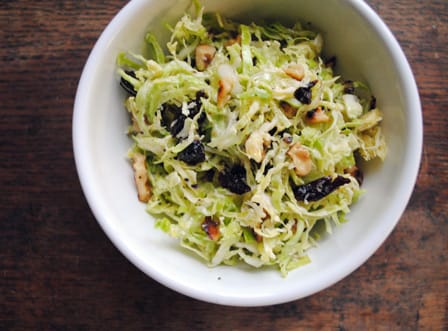 If you follow me on Twitter, you might have seen this a few hours ago. And if you did, you'd be forgiven for thinking that I'd finally lost the plot. It's rare that I make something that day and immediately want to blog about it, but this is fresh off the presses: people, sprout slaw is awesome.
I've been thinking about this sprout slaw recipe ever since Deb mentioned it this time last year. Though her words weren't exactly complimentary ("tastes like eating a bowl of grass"), I was intrigued. But, like many other things, it got filed away in the furthermost recesses of my mind, and I promptly forgot about it. Fast forward to a year later. After finally getting to grips with slaws in general, I'm a little more adventurous than I was last year. Also, I have a massive stalk of sprouts in the fridge, which I have to use by the end of the week. Now is the time for guts and guile.
So I sliced, shredded, dressed and seasoned; my only addition to the original recipe was some chopped dried cranberries (to make it more festive) and a generous amount of freshly ground black pepper (to make it, or, peppery). Pretty soon I was tucking into a bowl of slaw so flavourful, crunchy and addictive that I had barely swallowed my last bite before I got up for more (no need to feel guilty when it's just raw veg, right?) If this is what eating a bowl of grass is like, sign me up for summer.
Actually, do that anyway.
Brussels Sprout Slaw
adapted from Epicurious
serves 4, more as a side
---
4 cups shaves brussels sprouts (see note)
1/4 cup olive oil
2 Tbs. lemon juice
1/4 cup grated parmesan cheese
3/4 cup roughly chopped walnuts
1/2 cup roughly chopped dried cranberries or sour cherries
freshly ground black pepper, to taste
---
Note: To shave the sprouts, tear away the outer leaves first. You can use a mandoline or sharp knife to make thin shavings but only slice about half-way down each sprout. At this point, switch to shaving from the sides of the sprout. Basically, you're trying to avoid the white/yellow stem of each sprout, which is too hard for this salad.
---
 Rinse the sprouts well and let drain while you toast the walnuts. You can either do this in a hot oven, spread out on a baking sheet, or in a small frying pan over high heat. Either way, it should only take a few minutes to get some colour on the nuts. Set aside to cool while you make the slaw.
 Put the sprouts, olive oil, lemon juice and parmesan cheese together in a large bowl and toss well. When they're cool enough, add the walnuts and also the chopped cranberries. Add freshly ground black pepper to taste (I like this quite peppery) and serve.