On Sunday afternoons, I usually make a soup for lunch. Sometimes it's with fresh produce that I've just bought at the farmers market, but more often it's with leftover stuff from the week. A way to clear out the old and make way for the new, if you will. As such, these soups are rarely planned and shopped for, and its more a case of finding things that go together, or even finding things that don't, and forcing them to.
I also like these soups to be quick and simple. I usually use Sunday as a catch-up day before a new week, sometimes with blogging and freelance work, and most often recently, with homework. I cant be spending all my time chopping and stirring when there are floorplans to be drawn up or models to be built.
Sometimes you hit on a recipe which meets all your criteria effortlessly. Not only does this soup, which I made on a recent Sunday, make shopping a nonissue with its short ingredient list, but those ingredients go together so naturally that there's none of that creative convincing that sometimes needs to be done with clear-out recipes. Whats more, it's practically work-free: everything is simply roasted together in the oven first, then pureéd with some stock.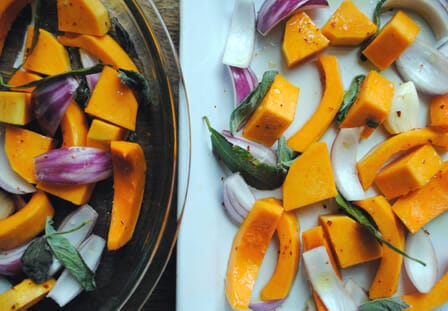 Want to know a secret? I almost never make my own stock. Back when I was a meat-eater, sure, but to be honest boiling a few scraps of veggies in water rarely seems worth the effort. Instead, I use stock cubes or bouillon powder, of which I like the European kinds best (they tend to be more flavourful and lower in salt than British and North American brands). Luckily, my mum has a helpful habit of picking these up for me when she travels. So far, my favourite has been a biological brand from Italy, but I like the German Kallo kind as well.
So, what with the pre-roasted vegetables and the instant stock, this is just about the easiest, the most hands-off soup I could make on a Sunday. Oh, and it's so tasty, you'll want to make it every night of the week. Just warning you.
Roast Squash Soup
serves 2
1 medium butternut squash, peeled, de-seeded and roughly chopped
1 red onion, roughly chopped
2 cloves garlic, crushed
2 bay leaves
a couple sprigs sage leaves, picked
1/4 tsp. chilli flakes
sea salt and black pepper, to taste
olive oil
500ml good-tasting vegetable stock
Preheat the oven to 200°C/400°F and find a large, deep roasting dish. Through in the squash, onion, garlic, and herbs, and season with the chili flakes and salt and pepper. Drizzle in enough olive oil to coat, give the pan a shake then transfer to the oven. Roast for 25-30 minutes, until the squash is very tender to the point of a knife.
When the vegetables have roasted, remove the herbs and discard the bay leaves (keep the crispy sage for garnishing the soup). Tip the rest of the roasting tin contents into a large saucepan, along with the stock. Simmer for about five minutes, then remove from the heat and purée with an immersion blender or a food processor. Serve, drizzled with a little more olive oil and the crispy sage leaves.