Several years ago, I went on holiday with my family to the furthest reaches of Cornwall. We stayed in a 200-year-old farmhouse just steps from the sea, rode around on open-topped buses, trekked the coastal path for hours on end, and discovered cultural and archaeological gems at every turn. What else? Oh yeah- we are.
There were home-cooked breakfasts of poached eggs and toast, pub lunches and innumerable cream teas. But one meal, in particular, stands out in my memory: the day we bought two Cornish pasties at a little shop in St. Ives, took them back to our farmhouse and made a meal of them, accompanied by braised cabbage and a salad. We only needed two pasties for four people, because these things were huge. Filled with a traditional mix of potatoes, swede and onions, they were also very, very good.
Not to dangle a carrot in front of you or anything, but these are not those pasties. Nope, I'm pretty sure I'd be in trouble with the Cornish Pasty Association if I tried to pass these babies off as the genuine article. The pasty is wrong, the filling is wrong; basically, they're all wrong. But like their Cornish cousins, they're also very, very good.
Another example of feeling suddenly compelled to make something, I woke up the other day with pasties on the brain. The idea for the curried parsnip filling came while I was rooting around (har, har) in the vegetable crisper for inspiration. Parsnips, potatoes, onion and spices make for an exotic yet strangely appropriate take on this British treat (our national dish is curry, after all). A little-added cheese and parsley make the whole thing sing.
The pasty here is a little different from my usual, all-butter recipe. While tradition dictates the use of lard, I opted for a different tack. Just a touch of crème fraîche keeps this dough pliable and easy to work with, a bonus when you're rolling, filling and crimping again and again.
While they don't exactly bring to mind days by the sea or hours spent walking the moors, these pasties certainly helped keep the February chill at bay. If you're in need of a few bites of escapism on these dull days, I highly recommend them.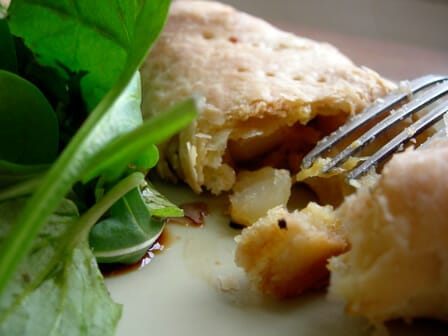 Curried Parsnip and Potato Pasties
makes 8 pasties
---
For the pasty:
220g plain flour
1/4 tsp. salt
110g unsalted butter, cut into 1cm cubes
1/4 cup crème fraîche
1/4 cup ice-cold water
For the filling:
1 Tbs. olive oil
1 Tbs. butter
1 onion, chopped
1 clove garlic, minced
1 Tbs. curry powder
1 tsp. cumin seeds
1 large potato, peeled and cut into 1.5cm chunks
2 medium parsnips, peeled and cut into 1.5cm chunks
1 cup grated cheddar cheese
1/4 cup chopped fresh parsley
sea salt and black pepper, to taste
---
 Firstly, make the pasty. Mix together the flour and salt in a large bowl, and work in the butter using your fingers or a pasty cutter. Don't overwork; the mixture should resemble coarse breadcrumbs, with some larger, pea-sized pieces of butter remaining.
 Mix the crème fraîche and water in a small bowl, and add it gradually to the flour mixture, so that it comes together into a dough. (You will need at least half, and possibly all, of the crème fraîche/water mixture.) Stir using a fork or a dough whisk until the dough comes together; gather up into a ball, wrap in clingfilm and place in the fridge for at least one hour.
 Meanwhile, get on with the filling. Heat the olive oil and butter in a large, nonstick pan over medium heat. Add the onion and cook until soft and translucent, about 5-8 minutes. Then add the garlic, curry powder and cumin seeds and cook, stirring frequently, for another two minutes.
 Add the potatoes and parsnips to the pan and stir to coat them well. Throw in a generous splash of water (about 1/2 cup), cover, and simmer the mixture over low heat. Keep checking the pan, stirring gently and adding more water so that the mixture doesn't stick. After 20-25 minutes, check that the veg is tender and remove from heat.
 When the vegetables have cooled a little, mix in the cheese and parsley, and season to taste. Continue to cool the mixture while you prepare the pasties.
 Take the dough out of the fridge and turn out onto a generously floured surface. Roll out to a thickness of 3mm and cut into circles, using pasty cutters or plates as a guide. It's up to you what size you make the pasties; I got eight pasties using 6.5″ circles of dough, but you could make fewer larger ones or more mini-pasties.
 Fill one-half of your pasty circles with the filling, ensuring there is a 1.5cm space around the edge. Using your finger and some tepid water, dampen this edge so that the dough will stick together. Fold the unfilled half over the filling and press the edges together; at this point, you can either crimp the edges together (prettier) or press down on them with the tines of a fork (easier). Stab the top of each pasty a couple of times with a fork, then place on a parchment-lined baking sheet. You can bake the pasties now, or keep them, on the baking sheet and covered with clingfilm, in the fridge for several hours. You can also freeze them, wrapped individually in tin foil.
 When you're ready, bake the pasties for 20-25 minutes at 200°C/400°F, until golden brown. (If cooking from frozen, they will need 5-10 minutes more).