I had fully intended to blog about these sticky buns, which I made for Andrew's birthday breakfast on Thursday, yesterday. Circumstances, however, colluded to work against me, and I wasn't able to. See, Andrew and I woke up yesterday in a "home improvement" frame of mind. He'd taken the end of the week off work, and we had the brilliant idea to ask his parents if they'd mind taking us on a quick trip to Ikea, to pick up a few odds and ends we'd been thinking about getting for the flat.
Now, as anyone who actually has experience with Ikea knows, there is no such thing as a "quick" trip to the Swedish furniture giant. Not only do the stores themselves seem to haemorrhage time, but they're located in obscure, confusing industrial areas, reachable only after a requisite number of wrong turns and swear words.
This particular journey was made even worse by the fact that the item we wanted was available at only one Ikea location in the entire UK, slap-bang on the opposite side of London. Getting there wasn't a problem; the North Circular was moving quickly, and it only took Andrew's dad just over an hour to make the journey. The problem was getting home: a closure of the Blackwall Tunnel left us stuck on the north side of the river, sitting in traffic and pondering our fate for four and a half hours! That's four and a half hours in a car with people who haven't eaten and are stuffed in uncomfortably alongside flat-packed furniture. Not fun, believe me. We mainly complained about the radio (rubbish) and discussed how much we wanted pizza (a lot).
By the time we got home, there was only enough time to unpack the car, race to Pizza Express for some takeout, and sit in exhausted, mouth-stuffing silence before bedtime. I really pity Andrew's parents, though- they still had to get home again.
This morning was spent, predictably, assembling furniture. I confess that I actually really like putting together stuff from Ikea; it appeals to the part of my brain that enjoys structured creativity. But it again put off the posting of this, and that I regret. Because really, there should be no excuse not to make these.
These sticky buns are the world away from the humble, pan-clustered cinnamon bun. Not that I don't love those, I do, but these are an entirely different animal. They remind me of the sticky buns I used to sell at my first part-time job, at a Bunsmaster Bakery. About once a week I'd bring home one of these babies, and one bite alone would almost make up for the early openings, low wages, and frightening bread-slicing machine. Almost.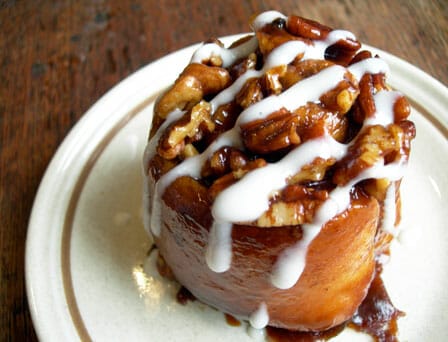 This recipe makes six individual buns in a muffin tin. I developed it for only six, because a) how often do you really need to feed 12 people at breakfast? and b) these buns really are best the day they're made- they tend to get stale after 24 hours. Other than that, though, they're divine: the lemon juice in the topping and icing cut the sweetness wonderfully, and the nuts are the perfect foil to the soft dough. Perfect with a cup of strong coffee, they're ideal for starting off any kind of celebratory day. Or just making yourself feel better about your crappy job. Either way, make them.
Sticky Buns
makes 6
Dough:
250g plain flour
25g caster sugar
1/4 tsp. salt
4g instant yeast
38g unsalted butter
75ml milk
1 large egg 
Topping:
50g unsalted butter
90g dark brown sugar
1 Tbs. golden syrup (or corn syrup)
1 Tbs. lemon juice
60g chopped pecans, walnuts or a mixture
Filling:
25g caster sugar
25g dark brown sugar
1 tsp. ground cinnamon
2 Tbs. unsalted butter 
Icing:
2 Tbs. cream cheese
1 Tbs. lemon juice
2 Tbs. icing sugar
  Mix together the flour, sugar, salt and yeast together in a large bowl.
 In a small saucepan, melt the butter in the milk over low heat. Remove from heat and whisk in the egg.
 Pour the wet ingredients over the dry and mix to form a dough. Turn out onto a floured surface and knead for about 5 minutes, until smooth and elastic. Place dough in an oiled bowl, cover with clingfilm and leave in a warm place to rise for about an hour until doubled in size.
 While the dough is rising, make the topping. Heat the butter, sugar, syrup and lemon juice together in a small pan over low heat, until just blended. Divide the mixture between 6 muffin cups, either buttered or silicone. Sprinkle the chopped nuts over the mixture, and set muffin tin aside.
 To form the filling, mix together the sugars and cinnamon in a small bowl and set aside. Melt the butter in a small pan and set aside as well.
 When the dough rises, punch it down and turn out onto a lightly floured surface. With a floured rolling pin, roll out into a long rectangle, about 15cm by 30cm, with the longest side facing you.
 With a pastry brush, brush the dough with the melted butter. Sprinkle the filling mixture over the dough evenly.
 Roll up the long side of the dough, firmly but not too tightly. You will have a long, coiled sausage-like shape. Cut into 6 even pieces and place, oil side up, in the muffin cups, on top of the nuts and topping mixture.
(The buns can be made ahead up to this point. Simply cover the muffin tin with clingfilm and place in the fridge, continuing with the baking steps when ready to eat. It makes enjoying these buns for breakfast much easier).
 When you're ready to bake the buns, remove them from the fridge and preheat the oven to 180°C/350°F. Bake for approximately 20 minutes until puffy and browning on top.
 While the buns are baking, make the icing. In a small bowl, blend together the cream cheese and lemon juice. Add the icing sugar gradually, mixing until uniform. You may need to add some boiling water, one teaspoon at a time, to achieve a consistency suitable for drizzling.
 Wrap several layers of tin foil around the top of your muffin tin (along with a roasting pan if you have one that will fit over) and quickly invert. Tap the top (bottom) of each muffin cup to ensure the syrupy nuts dislodge themselves and remove the muffin tin. Voilà! Allow cooling for at least 10 minutes before drizzling over the icing.