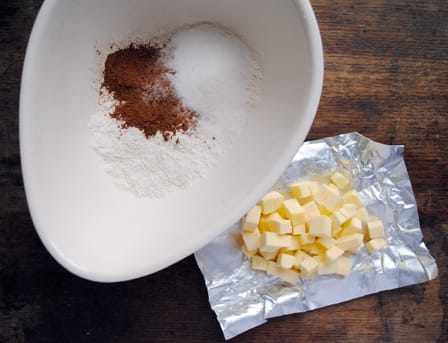 Good morning, friends- care to take a little trip with me? One that starts with butter and flour, and meanders through strawberry fields bordered by chocolate woods, perhaps dusted with a little-sugared snow? Come along then, we'll be travelling photojournalist-style.
Wonderful, yes? Well, you'd think. Though I hate to admit it, every now and then my culinary instincts can lead me astray. I get so excited about an idea or recipe that I'm snapping photos and writing blog posts in my head before said dish is even out of the oven, so convinced am I of its imminent success.
These mini galettes sure tasted wonderful, though. The strawberry and ricotta filling was perfectly moist and not too sweet, and the touch of cocoa added a certain warmth and depth. It was the texture of the pastry which was off; adapted from this Smitten Kitchen recipe, the promised soft and flaky dough turned out more limp and soggy. It was heartbreaking to have these beauties fall apart in my hands, especially since pastry is usually one of my kitchen strengths.
Still, I believe this journey deserves a do-over, which is why I'm offering you an adapted recipe here. A bit more chocolate flavour, a lot less moisture and some tweaked instructions and I believe these galettes could be a winner. But a disclaimer: if they don't work for you, forgive me. I'm still an amateur tour guide, after all.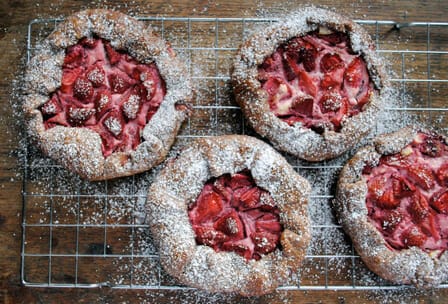 Chocolate, Strawberry and Ricotta Galettes
crust adapted from Smitten Kitchen
makes 4 x 5″ galettes
---
For the pastry:
1 1/4 cups flour
3 Tbs. cocoa powder
2 Tbs. sugar
1/8 tsp. salt
113g (1 stick) cold unsalted butter, cut into 1cm cubes
1/4 cup sour cream
2 tsp. lemon juice
2 Tbs. ice water
For the filling: 
1/2 cup ricotta
1 egg, divided
1 Tbs. sugar
zest of half a lemon
2 cups washed, hulled and roughly chopped strawberries
1 tsp. water
icing sugar, for dusting
---
 To make the pastry, mixes together the flour, cocoa, sugar and salt in a large bowl. Add in the cubed butter and work together with a pastry cutter or your fingers, until the mixture resembles coarse breadcrumbs.
 Whisk together the sour cream, lemon juice and ice water in a small bowl and pour 3/4 of it over the flour mixture. Mix together with a fork or wooden spoon until the mixture begins to come together; you may need to add more of the liquid, but do so drop by drop. Gather the pastry into a ball and wrap tightly in cling film; refrigerate for at least 1 hour.
 After an hour, remove the pastry from the fridge and divide it (using a scale, if you want to be exact) into four equal pieces. Wrap these individually in clingfilm and return to the fridge for another 30 minutes.
 Preheat the oven to 200°C/400°F. To make the filling, mix together the ricotta, egg yolk, sugar and lemon zest in a small bowl.
 When they've re-chilled and the oven is hot, remove one of the pastry balls from the fridge. Roll out on a well-floured piece of parchment to a 7″ round and top with 1/4 of the ricotta mixture and 1/4 of the strawberries, leaving a 1″ border. Carefully pull up and fold the pastry around the top of the galette, then transfer the galette to a lined baking sheet. (If this is too difficult, you could trim down the parchment paper and move the whole thing to the tray.) Repeat with the other 3 pastry pieces.
 Mix the egg white with 1 tsp. of water and brush over the top of the pastry. Bake the galettes for about 30 minutes until the pastry is dry to the touch and the filling is bubbly. Cool completely on a wire rack before dusting with icing sugar and serving.