I've been in a bit of a creative slump lately, in more ways that one. My list of projects keeps growing (finish upholstering those chairs, design and sew a dress to wear to a friends wedding in September, quilt those cushions that have been in the drawer for months), yet I cant seem to find the time, or even the inclination, to actually finish any.
So it is with my blog; despite my best intentions, I'm struggling to come up with exciting recipes these days. I know it not for a lack of seasonal inspiration. After all, the farmers market has never looked brighter, and this time last year I was tearing up the blogosphere with recipes for interesting spreads, stuffed breads and homemade pasta.
But of co/cooking/sauce/bruise, creativity breeds creativity. This is a fact that creative types artists, designers, and (ahem) food bloggers have long known. Do one creative thing, and others are sure to follow. Yesterday, I took this adage to heart and spent an afternoon pattern drafting; a skirt block tailored to my exact measurements should make all those summer sewing plans easier, don't you think?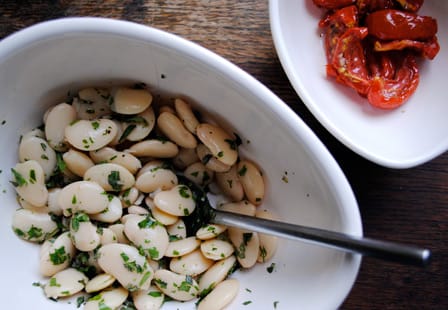 I'm hesitant to put this in writing, but it seems to have worked. I awoke this morning with a clear idea of what I wanted to cook: a summery take on Baked Gigantes, that Greek dish of giant white beans, tomatoes and onions. I love it, but the classic version is a bit rich for warm weather. But with feta cheese, sun blushed tomatoes and fresh herbs, those beans take on a whole new persona.
I can't quite decide what this dish is, exactly. It could be a casserole, for eating as a main meal with salad and bread. It could also be a side dish, starter, or even a dip, I suppose. But whatever it is, it's delicious, full of big Mediterranean flavours and textures.
It's also the perfect fuel for an afternoon of creative crafting, let me tell you. Next up, finishing my chairs (and finding space for them)!
Beans baked with Feta, Tomatoes and Herbs
serves 2 as a main, more as a side or starter
---
1 x 410g can of butter beans, rinsed and drained;
OR approx. 240g previously-cooked butter beans
1 tsp. olive oil, plus extra for drizzling
1 tsp. chopped fresh oregano
1 tsp. chopped fresh parsley
sea salt and black pepper, to taste
50g sun blushed tomatoes, roughly chopped
100g feta cheese
---
 Preheat the oven to 175°C/350°F. In a small bowl, toss the beans with 1 teaspoon of the olive oil, the herbs, a good pinch of sea salt and a grinding of pepper.
 Layer half of the beans into the bottom of a small oven-proof dish. Dot half of the tomatoes over the top and crumble over half the feta. Repeat with the remaining ingredients.
 Drizzle a little olive oil over the beans, cover tightly with foil and bake for 30-40 minutes, removing the foil for the last ten minutes. Realise that the feta won't exactly melt, but will brown in places (use the grill if you want to speed it up). Let cool 5 minutes before serving.