I have been dreaming about this quiche for a long time. So long that it was originally titled the Green Springtime Quiche, back when my mind first conceived of it in May. I daydreamed of a creamy filling packed full of green goodness, held together by a flaky butter pastry. Quiche is hardly a throw-together meal at the best of times, but I think youll agree that three months is a long time to wait, even for quiche.
Of course, if Id made this back then, it wouldnt contain this specific (and, if I can be so immodest, magical) combination of ingredients. No, this dish needed to come at a very specific time- that brief period when the tail end of broad bean season overlaps the beginning of the pea and green bean seasons. Only careful timing could bring about the emerald tart of my dreams.
Its funny how easily us market shoppers can become slaves to the seasons. My parents recently went on holiday and while they had a great time, my Mum was terrified that fava bean season in Eastern Ontario would come and go while they were away. To everyones immense relief (thats only a little sarcastic) she caught the last weekend, and spent several days podding, skinning and freezing 14 pounds of fava beans.
Unlike my Mum, I dont have a deep-freeze, so its even more important for me to work with the seasons. If I dont enjoy a certain vegetable while its there, Ive got to wait a whole year until it comes around again. This fear, perhaps more than even a liking for certain things, is what keeps my diet varied.
So, while for the most part I try to stay away from bossy behaviour on this blog, I really must implore you to make this quiche now. Yes, it will work fine with frozen produce later in the year, but theres something incomparable about a meal thats so fleetingly available. Like a snapshot of time, right on your table.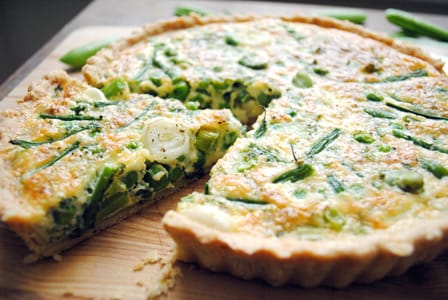 Green Summertime Quiche
makes one 10″ quiche; serves 6 with a salad or side
---
For the pastry:
1 1/4 cups plain flour
1/2 tsp. salt
113g (1/2 cup) unsalted butter, cut into 1cm cubes and very cold
1/4 – 1/3 cup ice cold water
For the filling:
1/2 cup shelled peas (or frozen and defrosted)
1/2 cup shelled and skinned broad beans (or frozen and defrosted)
1/2 cup chopped green beans, in 2cm pieces (or frozen and defrosted)
2 eggs
200ml double cream
1/3 cup grated parmesan
4 spring onions, finely chopped
2 Tbs. finely chopped parsley
sea salt and black pepper, to taste
---
 To make the pastry, mix the flour and salt together in a large bowl. Using your fingers or a pastry cutter, work the butter into the flour until the mixture resembles coarse breadcrumbs, but with some visible pea-sized pieces of butter remaining.
 Drizzle in about 1/4 cup of the ice water, and mix it into the flour with a fork or dough whisk. Work until it just comes together, but no more (you may need to add a bit more water, but do so a teaspoon at a time).
 Gather up the pastry and wrap it tightly in clingfilm; place in the fridge for at least 30 minutes, or up to 3 days.
 When ready to use, remove the dough from the fridge and roll out on a lightly floured surface. Gently lift into a 10″ tart tin and press into the corners, being careful not to "stretch" the dough too much. Trim off the excess, prick the bottom and sides a few times with a fork, and put the unbaked tart tin into the freezer for 30 minutes.
 Just before you're ready to bake the pastry, preheat your oven to 180°C/350°F. Line the frozen pastry with parchment paper, and fill with baking beans or uncooked rice. Bake for 15 minutes, then remove the beans/paper and cook for a further 7 minutes to dry out the bottom. Remove the case from the oven and set aside to cool.
 While the pastry is cooling, prepare the filling. Bring a small pot of water to the boil and simmer the peas, broad beans and green beans for 2-3 minutes, until they're bright green and have lost their raw texture. Rinse in cold water, drain and set aside.
 Whisk together the eggs, cream and parmesan in a large bowl. Add the chopped spring onions and parsley, and salt and pepper to taste, before folding in the cooled vegetables.
 Scrape the quiche filling into the pastry case and return to the oven. Bake for approximately 30 minutes, until set in the centre and lightly golden in places. Let the quiche cool before serving; it equally good warm or at room temperature.
---
Note: This amount of pastry will also fill an 11″ tart tin. To adjust the filling, simply add 1 egg and another 100ml of cream, leaving the other amounts the same.