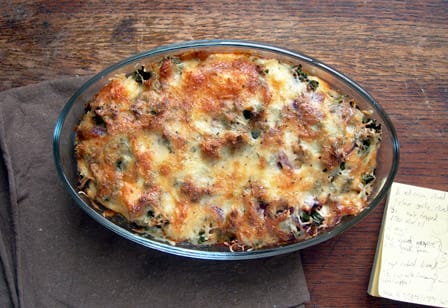 Last month, I did something extremely (some might say uncharacteristically) clever: I bought a small glass Pyrex dish. Nothing fancy or all that pretty (it was only £2 at Sainsbury's after all) but as it turns out, that little dish was an awesome buy.
I already had a larger oval Pyrex, as well as a red-and-white ceramic gratin dish, but these two shared a common problem: there are only two people in this flat. Now, I love leftovers. Love them. But some things don't "leave over" all that well, do they? Add to that the fact that we don't have a microwave, and you get well, a lot of waste.
To avoid this, I've been avoiding certain kinds of dishes, namely, anything that we can't eat in one sitting (sadly, not as innumerous as you might think) and won't re-heat well. But this new dish is the perfect size for two people. Suddenly, a whole new world of bakeable dishes is open to me: soufflés, rich puddings, strata.
Yup, strata. I'd never even heard of this American savoury bread pudding until sometime last year (actually, when I first saw The Family Stone), and hadn't tried it until this week. Oh, what I was missing. Crusty bread baked in an eggy custard and topped with cheese? Yes, please.
I made mine with curly green kale, red onions and garlic, and piled on the parmesan, gruyère and cheddar for a tri-cheesy feast. It was absolutely delicious, and I'm comforted to know that thanks to my new baking dish, I whip one up for Andrew and myself anytime I want. Now, if I could just get him to try it, we'd be all set.
Note: Most recipes I've come across say to rest the strata mixture in the fridge for 8 hours before baking. I managed 20 minutes. It was fine, but if your bread is particularly stale or extra-crusty, you might want to follow common practice.
Red Onion, Kale and Cheese Strata
serves 2, easily multiplied
---
1 cup cubed white bread
1 tsp. olive oil
1/2 a red onion, finely sliced
3/4 cup chopped kale
1 garlic clove, sliced
1/4 tsp. chili flakes
1/4 cup grated cheddar
1/4 cup grated gruyère
2 eggs
2/3 cup whole milk (or a mixture of semi-skimmed and cream)
2 Tbs. grated parmesan
salt and pepper, to taste
---
 Lightly butter a small gratin dish and toss in your bread cubes. Set aside.
 Heat the olive oil in a non-stick pan over medium heat and add the onion. Sautée until onion begins to soften, about 4 minutes, then add the kale. Cook for about 3 minutes, before adding the garlic and chilli flakes, and cooing everything together for another three minutes. Remove from heat.
 Spread the vegetable mixture over the bread, and gently push it down in between the cubes in places. Sprinkle over the cheddar and gruyère.
 In a small bowl or jug, whisk the eggs with the milk and parmesan, and add salt and pepper to taste. Pour over the gratin dish, and let sit until the custard has been absorbed.
 Preheat your oven to 175°C/350°F. Bake for 25-30 minutes, until browned on top and puffy. Serve immediately.