Stuffing pasta with cabbage seems like a half-baked idea, I know. For many of us, doing anything with cabbage seems a bit far-out. I used to hate cabbage- well, actually, I used to think I hated cabbage, which is something completely different. We didn't eat it all that often when I was growing up, so I never really got the chance to decide for myself whether I hated it- but every kid hates cabbage, right?
Andrew proves my theory; he did and still does loathe the stuff. He calls it "poor person" food, an idea planted by the movie Willy Wonka and the Chocolate Factory, one of his favourites as a kid. At the start of the film, Charlie's family is so poor that all they can afford to eat is cabbage. (Hmm, I wonder if that film is also the reason Andrew loves chocolate so much?)
It wasn't until I moved to the UK that I realised how great cabbage can be. Not only is it healthy, delicious, and yes, cheap, but this veg is a total chameleon. I love it braised and sweet or sautéed and spicy. In my family, though, there is one cabbage dish that stands head and shoulders above the rest: boiled, with butter, salt and pepper. Sounds horrible, I know, but with the right ingredients, it's divine.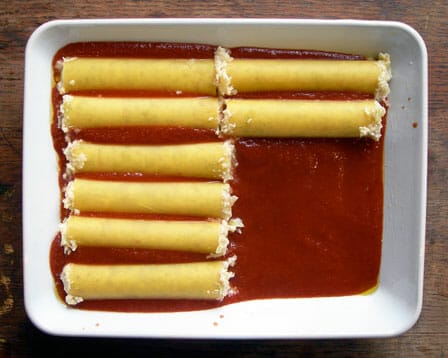 Still, no matter how it's made, Andrew never really warmed to the stuff. Until this, that is. This cabbage-stuffed cannelloni is one dish he'll happily eat, and I defy any cabbage dissenter to feel otherwise. Originally the recipe (much adapted from a Jamie Oliver one) called for a combination of cauliflower and broccoli, which I strayed from one day when I didn't have any broccoli in the house. It's even better this way, so I've never gone back.
Though tasty, this isn't a quick weeknight meal. The two sauces are practically effortless to make, but the filling does require its fair share of simmering, mixing and mashing. And that doesn't even take into account stuffing the cannelloni; slow and tricky work, though also calming in a mindless sort of way. The good news is that the whole thing can be made in advance, and kept, covered tightly, in the fridge for up to 24 hours.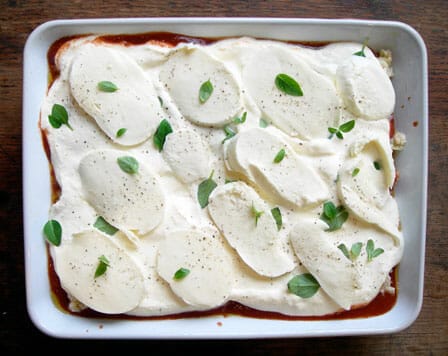 Cabbage and Cauliflower Cannelloni
serves 4
---
Filling:
1  small head cauliflower, cut into florets
3 Tbs. olive oil
1 small onion, finely chopped
2 cloves garlic, minced
3/4 tsp. chili flakes
1/2 small pointy cabbage (or green cabbage), finely chopped
sea salt and black pepper
1/4 cup grated parmesan
1/3 cup ricotta
Tomato Sauce:
1 cup pasta or simple tomato sauce
1 Tbs. balsamic vinegar
sea salt and black pepper
White Sauce:
2/3 cup crème fraîche (low-fat is fine)
1/3 cup ricotta
1/4 cup grated parmesan
sea salt and black pepper
12 cannelloni noodles (roughly 125g)
small bunch of basil leaves, torn
150g ball of fresh mozzarella, sliced
olive oil, for drizzling
---
 For the filling, brings a medium pot of water to the boil. When it boils, add the cauliflower florets and cook until tender, approximately 5 minutes. Drain and set aside, but reserve 1 cup of the cooking water.
 In a large, heavy-bottomed and lidded pan, heat the olive oil over low heat. Add the onion, garlic and chilli flakes and cook for about 5 minutes, until just softened. Add the cabbage, cauliflower florets, reserved cooking water, and salt and pepper to taste. Cover the pan and cook for 20-30 minutes, stirring every so often. You may have to add a bit more water from time to time, but remove the lid for the last 5 minutes, so that it all cooks off.
 Remove the pan from the heat and, with a potato masher, crush the cauliflower into the rest of the ingredients; everything should be very soft at this stage. Mix in the parmesan and ricotta and set aside to cool.
 Now, make your sauces. In one bowl or jug, mix together the passata, vinegar and salt and pepper to taste. In another, whisk the ricotta with the crème fraîche, and salt and pepper to taste.
 Preheat your oven to 190°C/375°F. Lightly oil the bottom of an 8″ x 10″ baking dish and pour in the tomato sauce. Distribute evenly and set aside.
 The filling mixture should now be cool enough to handle. Fill the cannelloni with a small teaspoon; with a creamier mixture it can be piped in, but this is chunkier and requires a bit more time. Fill the tubes until almost bursting, and lay flat on top of the tomato sauce.
 When all the cannelloni is filled, pour the white sauce over the top and spread it evenly to cover. Sprinkle with the torn basil and lay over the sliced mozzarella. Drizzle some olive oil and bake for 30-40 minutes. The top should be golden brown and the mixture will bubble at the edges. Let sit for 10 minutes before serving.