This post is the first in a series I'll be writing about food, social stereotype, and the cultural context in which they coexist. Ok, not really. But I do need to get some stuff off my chest.
I think most people who know me would agree that I'm not a hippie. I'm not all that spiritual, I'm into material possessions, I wear a lot of blacks. As a kid, I once spent two weeks at a hippie-esque summer camp and hated it. The food was weird, everyone was wearing tie-dye and my cabin counsellor didn't shave her legs. (My parents ignored my tearful phone calls home and pleas to "get me away from here". I lived.)
But even in the face of all that evidence, I have my niggling doubts, compounded by the fact that my boyfriend occasionally likes to tease me by calling me a hippie in an affectionate (at least I hope it's affectionate) way. Since that summer at Camp Hell-on-Earth, I've become a vegetarian. I'm also an eco-nag and a self-confessed tree hugger. I occasionally listen to Ani Difranco. Could I be a hippie?
The clincher, of course, is these date squares. Made with oats and whole wheat flour, these are exactly the kind of thing you'd expect to find in some kind of commune bake sale, between the hemp seed bread and the tofu cheesecake. The second I pulled these from the oven, I worried my fate as a hippie was sealed.
Of course, one batch of date squares does not a hippie make. Luckily for you; these are delicious, and I'd hate to think anyone was missing out because of some misguided fear. And if you are a hippie, don't worry. I won't tell anyone.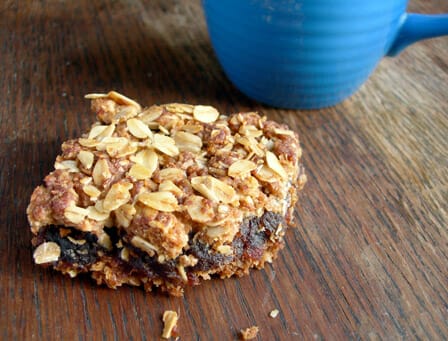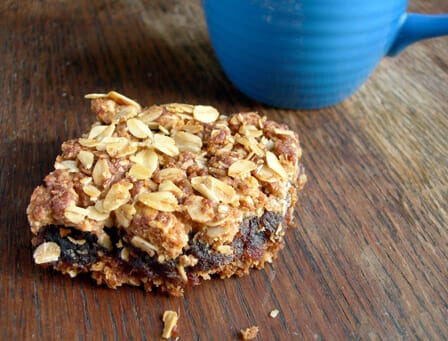 Oaty Date Squares
adapted from Breakfast, Lunch, Tea by Rose Carrarini
makes 16-24 squares
---
400g dried, pitted dates
240ml water
1 tsp. vanilla extract
200g rolled oats (+ 30g for topping, optional)
150g whole wheat flour
1/2 tsp. baking soda
1/4 tsp. salt
150g unsalted butter (+ extra for greasing)
110g dark brown sugar
2 Tbs. golden syrup
---
 Preheat the oven to 180°C/350°F. Prepare a baking tin (8×8, 9×9 and 8×13 all work fine) by buttering and lining it with parchment. Set aside.
 Roughly chop the dates and combine with the water in a small saucepan. Simmer over a very low heat until the water is absorbed and the dates have the consistency of a thick paste. Stir in the vanilla and set aside.
 Blitz the oats (except for the 30g for topping) in a food processor or spice grinder briefly; you don't want a uniform consistency, but rather some fine oat flour, some whole flakes and some in between bits. Mix the oats with the flour, baking soda and salt in a large bowl.
 In another saucepan, melt the butter, sugar and golden syrup together until just combined. Pour over the oat mixture and stir until everything is well-coated and crumbly.
 Press just over half of this mixture into the prepared baking tin, ensuring an even layer. Over this, evenly spread the date mixture. "Crumble" the remaining oat mixture evenly over the top of the dates (this is easier than spreading it) and gently press down. With buttered hands, sprinkle and pat the remaining 30g of oats down on top of that.
 Bake the squares for 30-35 minutes until golden brown and firm to the touch. Let cool completely before cutting, with a very sharp knife, into squares.