Lately, Ive been feeling overwhelmed by the amount of stuff in my flat. If its not my teeny tiny closet, its our teeny tiny bookcase. If its not the teeny tiny bookcase (which is actually a good size; it just suffers from a plague of books), its my teeny tiny kitchen cupboards. While Im normally pretty good about editing my life on a regular basis, sometimes it just all adds up, in what I can only assume is a concerted effort to drive me absolutely batty.
So, Im back in clear-out mode, and its feeling good. The other day I sorted, scrubbed and organized my baking cupboard, and later today my spice and regular cooking cupboards will get the same treatment. That which doesnt get tossed (baking soda which expired in 2009?) gets arranged neatly and written down; I figure it will be useful to have a list of what needs using up to refer to. So of course, Im now on the hunt for recipes which use a scant amount of this, a dash of that and not a whole lot of anything else. I feel its only fair to warn you guys: you can expect a lot of these kind of recipes in the weeks to come.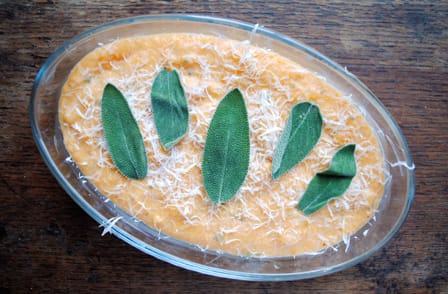 One thing in particular I was looking to use up (and which, ironically, didn't hail from the cupboard at all) were two lone sweet potatoes. Rather on the small side, they wouldn't have made much of a meal alone, so I figured a modest side dish was their calling. Little did I know that I was soon to stumble upon a recipe for one of the most delicious, luxurious and immodest side dishes I've ever had.
As a lover of Italian food, I was surprised that I hadnt come across the term sformato before reading in on The Kitchn last week. Described as similar to a soufflé but not as airy, I was intrigued. Apparently, sformati can be savoury, sweet, made with eggs, a white sauce or both, and can contain everything from veggies to pasta to sweet fruits. This lack of rigidity would usually alarm me, but in this case, it was just what the doctor ordered. I took the recipe I'd found and adapted (butchered?) it as I saw fit, to use exactly what I had in the house.
The result was a smooth and savoury pudding of sorts, scented with sage and parmesan. Though I've stated here that the recipe serves two as a side, I'll admit that I polished off nearly the whole thing by myself. And that, my friends, is real cupboard cleaning.
Sweet Potato Sformato
adapted from The Kitchn
serves 2 as a side:
---
2 smallish sweet potatoes
1 tsp. butter, plus extra for dish
1 tsp. finely chopped sage leaves, plus extra for garnish
1 tsp. flour
3/4 cup milk
1/2 cup grated melting cheese, like asiago
sea salt and black pepper, to taste
pinch of grated nutmeg
1 egg, lightly beaten
2 Tbs. grated parmesan
---
Heat your oven to 200F/400F and scrub both of the sweet potatoes. Wrap tightly in foil and roast for 40-45 minutes, until soft to the point of a knife. Allow to cool slightly, and turn the oven down to 180C/375F. Grease a small baking dish with some butter and set aside.
Heat the butter in a small saucepan over medium heat, and add the sage leaves. Fry gently for a minute or two until fragrant, then add the flour. Continue to cook for another minute, whisking constantly, so that the flour forms a paste. Slowly pour in the milk, whisking as you go, and stir until the mixture thickens. Add the cheese, salt, and pepper to taste and stir until smooth. Remove sauce from the heat and let cool.
When the potatoes are cool enough to touch, remove them from their skins (this should be easy) and put the flesh into a bowl. Mash roughly using a fork, then mix in the cheese sauce. When combined, add the egg and nutmeg. Transfer batter to a baking dish, top with the parmesan and the extra sage leaves, and bake for 25 minutes, until golden brown in places.