Can you believe that Christmas is a mere 15 days away? Ill admit- despite the passing of time and my best efforts, I'm not feeling all that Christmassy this year. For the first time in my 26 years, Ill be spending Christmas away from my family, traveling instead to the English coast to be with my boyfriends. Though I'm looking forward to experiencing Andrews traditions, it does feel a bit anticlimactic to be spending the holiday season in England.
As such, I'm having some trouble getting in touch with my festive side. While my Canadian hometown has been dusted with snow over the past week, turning it into a sparkly, magical winter wonderland (or a slippery, slushy Hell- it depends on who you ask) London remains stubbornly green. Yes, my village has its Christmas lights on and there are holiday displays in every shop window, but none of that is doing much to make this foreigner feel at home.
The cure for this homesick holiday ambivalence is quite clearly food (isn't it always?). Roasting always seems like a particularly festive cooking method, so when I bought these parsnips and carrots from the market on Sunday, I figured that a sweetly roasted side dish was the way to go. I threw in some shallots to balance all the sweetness and drizzled with some maple syrup for that taste of home.
These would make a great side for a roast dinner of some sort; I'm sure in my former life I would've loved them alongside a chicken. As it stands, Andrew and I enjoyed these for lunch with some cheesy scrambled eggs and a slice of toast. (It may seem strange, but the sharpness of the cheddar was the perfect counterpoint to the maple syrup.)
So, am I in the festive mood now? Well, not really- but at least I'm one meal closer.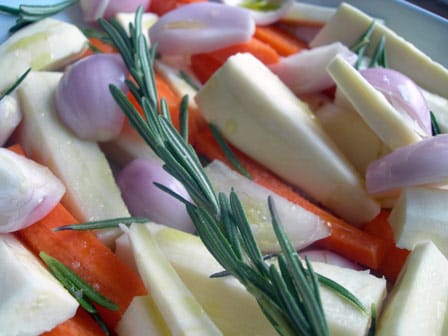 Maple Roasted Parsnips, Carrots and Shallots
serves 4 as a side, 2 as a meal.
---
4 parsnips
3 carrots
4 shallots
1-2 sprigs rosemary leaves picked
3 Tbs. olive oil
good pinch of sea salt
2 Tbs. maple syrup
---
Preheat the oven to 200°C/400°F. Scrub or peel the parsnips and carrots (I peel rather than wash, as I'm very lazy and find it easier), then quarter lengthwise and cut into 2″ lengths. Peel the shallots and quarter lengthwise.
Throw the veg into a shallow baking dish and scatter the rosemary over the top. Drizzle with olive oil and sprinkle with the sea salt.
Bake for 25 minutes, then pour over the maple syrup and toss to coat. Return to the oven for another 10 minutes. Cool for 3-5 minutes, then serve.